PEDOT: Principles and Applications of an Intrinsically Conductive Polymer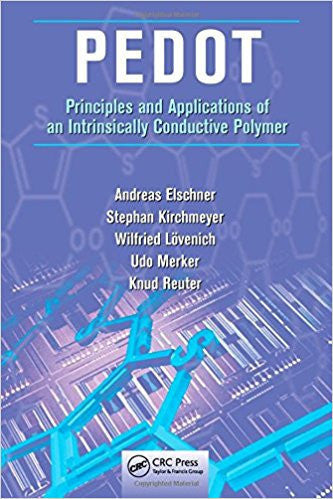 PEDOT: Principles and Applications of an Intrinsically Conductive Polymer
Author: Andreas Elschner, H.C. Starck GmbH, Leverkusen, Germany; Stephan Kirchmeyer, H.C. Starck GmbH, Leverkusen, Germany; Wilfried Lovenich, H.C. Starck GmbH, Leverkusen, Germany; Udo Merker, H.C. Starck GmbH, Leverkusen, Germany; Knud Reuter, H.C. Starck GmbH, Leverkusen, Germany
ISBN 9781420069112 

Number of Pages: 377
Features
Summarizes the latest information om PEDOT
Offers information on how to solve technical problems using this conductive polymer
Covers information generated by universities and academic research as well as by industrial scientists, giving the full picture of the experimental and the practical
Focuses exclusively on PEDOT
Describes technical applciations of PEDOT
Summary
The unparalleled large-scale commercial application of poly(3,4-ethylenedioxythiophene), otherwise known as PEDOT, continues to fuel a need for literature about it that is concise, easily available, but sufficiently comprehensive. Designed to meet the requirements of readers from different areas of expertise and experience with the substance, PEDOT: Principles and Applications of an Intrinsically Conductive Polymer provides a comprehensive overview of chemical, physical, and technical information about this preeminent and most forwardly developed electrically conductive polymer. 
An indispensable resource for researchers, developers, and users of PEDOT—written by the researchers who succeeded in commercializing it
A necessary response to the massive interest—as well as patents and papers—spawned by PEDOT, this handbook provides basic knowledge and explores technical applications, based on information generated by universities and academic research, as well as by industrial scientists. Available in various formulations and conductivities, this versatile PEDOT can be adapted for the needs and specific industrial applications of its different users. Although valuable information exists in handbooks on polythiophene chemistry and physics, under which PEDOT falls, until now, few if any books have focused exclusively on this important conducting polymer—certainly not one that so completely elucidates both its experimental and practical aspects.
This book:
Begins with a brief history of conducting polymers and polythiophenes
Describes the invention of PEDOT and its commercial outgrowth, PEDOT: PSS
Emphasizes key technical and commercial aspects and usage of PEDOT and how they have stimulated scientific research in a wide range of fields
Explains the chemical and physical background for PEDOT in terms of its primary use and incorporation in products including cellular phones and flat panel displays
Valuable for readers at any level of familiarity with PEDOT, this one-stop compilation of information offers specialists several unpublished results from the authors' celebrated work, as well as often overlooked information from patents. Balancing sufficient detail and references for further study, this book is a powerful tool for anyone working in the field.
The Discovery and Development of Conducting Polymers

The Scope of This Historical Overview

Introduction

An Early Example: Polyaniline

The First Electrically Conductive Poly(Heterocycle): Polypyrrole

The Fundamental Breakthrough: Doped Polyacetylene


Conductive Polymers versus Metals and Insulators

Metals, Semiconductors, and Insulators

Conjugated Polymers

Temperature-Dependent Conductivity

Order and Disorder

Polythiophenes: A Chance for Maximum Conductivity?

Oxygen-Substituted Polythiophenes

A Short History of the PEDOT Invention

The Synthesis of EDOT Monomer, and Its Physical and Chemical Properties

Monomer Synthesis

Physical Properties

Chemical Properties

From EDOT to PEDOT: Oxidative Polymerization and Other Routes

Oxidative Polymerization and Doping

"Self-Oxidation" of EDOT Halogen Derivatives

The Organometallic Route to PEDOT

Neutral, Undoped PEDOT by Oxidative Polymerization

Counterions for PEDOT

Counterions in Electrochemically Polymerized PEDOT

Counterions in Chemically Polymerized PEDOT

The In Situ Polymerization of EDOT to PEDOT

Synthesis of In Situ PEDOT

Properties of In Situ PEDOT

In Situ Polymerization of EDOT Derivatives and Relatives

PEDOT: PSS

PEDOT: PSS Dispersions

Properties of PEDOT: PSS

Secondary Doping

Applications

Solid Electrolyte Capacitors

Through Hole Plating for Printed Wiring Boards

ITO Substitution

Antistatic Coatings

Electroluminescent Lamps

Organic Light Emitting Diodes (OLEDs)

PEDOT: PSS in Organic Solar Cells

Electrochromic Behavior

Organic Field-Effect Transistors


Technical Use and Commercial Aspects

EDOT and PEDOT Derivatives with Covalently Attached Side Groups

EDOT-CH2OH and Its Derivatives

EDOT-CH2Cl and Its Follow-Up Products

Alkyl EDOTs

Water Soluble, "Self-Doping" EDOT Derivatives

XDOTs, EDXTs, EDOXs, and 2(5)-X(2)-EDOTs: Ring Size Variations, Heteroanalogs, and Derivatives of EDOT with Substituents at the Thiophene Ring

3,4-Methylenedioxythiophene (MDOT)

ProDOT (Propylenedioxythiophene) Derivatives

Vinylenedioxythiophene (VDOT) and Benzo-EDOT

3,4-Ethyleneoxythiathiophene (EOTT)

3,4-Ethylene dithiathiophene (EDTT)

3,4-Ethylenedioxypyrrole (EDOP) and Its Derivatives

3,4-Ethylenedioxyselenophene (EDOS)

2,5-Disubstituted EDOT Derivatives [2(,5)-X(2)-EDOTs]

The Electrochemical Behavior of EDOT and PEDOT


Andreas Elschner, Ph.D., was educated as a solid-state physicist at the University of Marburg (Germany) where he received his Ph.D. in 1988. Following a postdoctoral year at Stanford University (California), he joined Bayer AG in 1990 and has been with H.C. Starck since 2002. Dr. Elschner's research focus is on organic electronics and he is responsible for testing and characterizing organic devices and conducting polymers.


Stephan Kirchmeyer Ph.D. studied chemistry from 1978 to 1984 at the University of Hamburg (Germany) and at the University of Southern California in Los Angeles. Until 2001, Dr. Kirchmeyer worked as a researcher for IBM and Bayer AG. In 2002, he joined H.C. Starck GmbH and since then has held several responsible positions for H.C. Starck's business with conductive polymers and electronic materials.


Wilfried Lövenich, Ph.D., received his diploma in chemistry from the Technical University of Aachen (Germany). He then went to the University of Durham, Great Britain, to obtain his Ph.D. In 2002, Dr. Lövenich joined H.C. Starck, working as an R&D chemist on the development and pilot plant production of the conductive polymer PEDOT. Since 2009, Dr. Lövenich has been the head of the R&D group of H.C. Starck Clevios GmbH.


Udo Merker, Ph.D., studied physics at the University of Bonn (Germany) from 1989 to 1994. He received his Ph.D. in 1998 for studies in molecular spectroscopy at the University of Bonn and Princeton University (New Jersey). From 1998 to 1999, Dr. Merker was postdoctorate at the Chemistry Department of Princeton University. In 1999, he joined the corporate research division of Bayer AG to work on the development of electronic materials. From 2002 until 2008, Dr. Merker was responsible for the development of new materials and processes for electrolytic capacitors in the central R&D division of H.C. Starck GmbH. Since 2009, he has been the head of the application technology group of H.C. Starck Clevios GmbH. 


Knud Reuter, Ph.D., studied chemistry from 1969 to 1974 at the University of Dortmund (Germany) where he received his doctoral degree with a thesis in organometallic chemistry in 1977. In the same year, Dr. Reuter started his professional work as a member of a polymer research group at Bayer AG. Since 2000, he has worked on PEDOT chemistry, joining H.C. Starck GmbH in 2002.


Related Products
{"id":7703567040669,"title":"Handbook of Adhesion Promoters, 2nd Ed.","handle":"handbook-of-adhesion-promoters-2nd-ed","description":"\u003ch5\u003eDescription\u003c\/h5\u003e\nAuthor: George Wypych\u003cbr\u003eISBN 978-1-77467-018-7 \u003cbr\u003e\u003cbr\u003e \u003cmeta charset=\"utf-8\"\u003e\n\u003cp\u003ePages 322+vi\u003cbr\u003eFigures 154\u003cbr\u003ePublished Jan. 2023\u003cbr\u003e\u003c\/p\u003e\n\u003ch5\u003eSummary\u003c\/h5\u003e\n\u003cp\u003eAdhesion promoters form a significant group of additives, without, which many industrial products cannot perform according to requirements. The knowledge on this subject mostly related to silanes, which form the most widely used group of these additives, is frequently based on the book which was published at the beginning of 1980s by a scientist who developed many silanes used until today. Since then, many new additives were introduced into the market. Most of these new additives are not based on silanes but on one of over 30 chemical groups of chemical compounds needed for a variety of products in which silanes do not function, are too expensive, or better performance can be achieved with these new additives.\u003cbr\u003e\u003cbr\u003eThis book fills the existing gap in the literature, which still lacks the most recent comprehensive review of current options and knowledge. Handbook of Adhesion Promoters contains 10 chapters, each discussing essential aspects of the application of adhesion promoters. The known mechanisms which belong to one of 13 groups outline principles of use, action, and application of these additives. This chapter is followed by the discussion of mechanisms that cause adhesion loss, such as corrosion, delamination, detachment, liquid penetration, and peeling.\u003cbr\u003e\u003cbr\u003eSurface condition and its treatment are discussed regarding surface treatment by different methods (cleaning, mechanical, plasma, microwave, flame, corona discharge, laser, UV, and chemical modification), which are used in practical applications. All these are illustrated with practical examples.\u003cbr\u003e\u003cbr\u003eChapter 5 gives formulations of typical primers used in the application of adhesives and sealants, coatings, coil coatings, cosmetics, dental, leather, metal, optical devices, paper, polymers and plastics, printing, and wood. This chapter contains over 50 primer formulations.\u003cbr\u003e\u003cbr\u003eA full chapter is devoted to the subject of polymer modification which can improve adhesion – a method frequently used instead of the addition of adhesion promoters. The properties of (over 30 groups of adhesion promoters and their potential applications are discussed in the chapter devoted to this subject based on published articles, manufacturers' information, and analysis of patents.\u003cbr\u003e\u003cbr\u003eThe last three chapters contain information on available evaluation and selection of adhesion promoters that work with different polymers (29), products (28) and help to prevent corrosion. A full list of covered polymers and products is given in the table of contents below.\u003cbr\u003e\u003cbr\u003eIn addition to the theoretical and practical knowledge required to effectively formulate products used in various applications discussed in this book, there is also available Databook of Adhesion Promoters, which contains data on many most extensively used commercial additives. Both books contain the most recent information available in literature, patents, and published by manufacturers and users of these products. \u003cbr\u003eThe Handbook of Adhesion Promoters is an important reference for chemists, engineers, and materials scientists in various industries. It is also suitable as a reference book for advanced graduate students.\u003cbr\u003eIt is recommended for readers interested in all aspects of polymers and plastics, with special attention to the development, studies, legislation, and production of adhesives, aerospace, agriculture, automotive, bitumen, ceramic tiles, coated fabrics, coatings and paints, coil coatings, composites, construction, cosmetics, dental, electrodes, electronics, flooring, food applications, inks, laminates, medical, membranes, metal coating, pharmaceutical, roofing, sealants, tires, waterproofing, and wire \u0026amp; cable.\u003cbr\u003e\u003c\/p\u003e\n\u003ch5\u003eTable of Contents\u003c\/h5\u003e\n\u003cstrong\u003e1 Introduction\u003c\/strong\u003e \u003cbr data-mce-fragment=\"1\"\u003e1.1 Definitions \u003cbr data-mce-fragment=\"1\"\u003e1.2 History \u003cbr data-mce-fragment=\"1\"\u003e\u003cstrong\u003e2 Mechanisms of Adhesion\u003c\/strong\u003e \u003cbr data-mce-fragment=\"1\"\u003e2.1 Mechanical interlocking \u003cbr data-mce-fragment=\"1\"\u003e2.2 Surface condition and shape \u003cbr data-mce-fragment=\"1\"\u003e2.3 Diffusion and entanglement \u003cbr data-mce-fragment=\"1\"\u003e2.4 Adsorption\/interaction \u003cbr data-mce-fragment=\"1\"\u003e2.5 Acid-base and electrostatic interactions\u003cbr data-mce-fragment=\"1\"\u003e2.5.1 Acid-base interactions \u003cbr data-mce-fragment=\"1\"\u003e2.5.2 Electrostatic interactions \u003cbr data-mce-fragment=\"1\"\u003e2.6 Surface free energy and wetting \u003cbr data-mce-fragment=\"1\"\u003e2.7 Crystalline properties \u003cbr data-mce-fragment=\"1\"\u003e2.8 Interphase formation \u003cbr data-mce-fragment=\"1\"\u003e2.9 Chemical bonding \u003cbr data-mce-fragment=\"1\"\u003e2.10 Hydrogen bonding \u003cbr data-mce-fragment=\"1\"\u003e2.11 Reversible hydrolysis \u003cbr data-mce-fragment=\"1\"\u003e2.12 Microbiological and biological adhesion \u003cbr data-mce-fragment=\"1\"\u003e2.13 Cellular adhesion \u003cbr data-mce-fragment=\"1\"\u003e\u003cstrong\u003e3 Mechanisms of Adhesion Loss\u003c\/strong\u003e \u003cbr data-mce-fragment=\"1\"\u003e3.1 Corrosion \u003cbr data-mce-fragment=\"1\"\u003e3.2 Delamination \u003cbr data-mce-fragment=\"1\"\u003e3.3 Detachment \u003cbr data-mce-fragment=\"1\"\u003e3.4 Debonding \u003cbr data-mce-fragment=\"1\"\u003e3.5 Liquid penetration \u003cbr data-mce-fragment=\"1\"\u003e3.6 Peeling \u003cbr data-mce-fragment=\"1\"\u003e\u003cstrong\u003e4 Substrates - Surface Condition and Treatment\u003c\/strong\u003e \u003cbr data-mce-fragment=\"1\"\u003e4.1 Surface evaluation \u003cbr data-mce-fragment=\"1\"\u003e4.2 Surface treatment \u003cbr data-mce-fragment=\"1\"\u003e4.2.1 Cleaning \u003cbr data-mce-fragment=\"1\"\u003e4.2.2 Mechanical \u003cbr data-mce-fragment=\"1\"\u003e4.2.3 Plasma \u003cbr data-mce-fragment=\"1\"\u003e4.2.4 Microwave plasma \u003cbr data-mce-fragment=\"1\"\u003e4.2.5 Flame \u003cbr data-mce-fragment=\"1\"\u003e4.2.6 Corona discharge \u003cbr data-mce-fragment=\"1\"\u003e4.2.7 Laser \u003cbr data-mce-fragment=\"1\"\u003e4.2.8 UV \u003cbr data-mce-fragment=\"1\"\u003e4.2.9 Chemical modification \u003cbr data-mce-fragment=\"1\"\u003e\u003cstrong\u003e5 Typical Primer Formulations and Applications to Different Substrates\u003c\/strong\u003e \u003cbr data-mce-fragment=\"1\"\u003e5.1 Adhesives and sealants \u003cbr data-mce-fragment=\"1\"\u003e5.2 Coatings \u003cbr data-mce-fragment=\"1\"\u003e5.3 Coil coating \u003cbr data-mce-fragment=\"1\"\u003e5.4 Cosmetics \u003cbr data-mce-fragment=\"1\"\u003e5.5 Dental \u003cbr data-mce-fragment=\"1\"\u003e5.6 Leather \u003cbr data-mce-fragment=\"1\"\u003e5.7 Metal \u003cbr data-mce-fragment=\"1\"\u003e5.8 Optical devices \u003cbr data-mce-fragment=\"1\"\u003e5.9 Paper \u003cbr data-mce-fragment=\"1\"\u003e5.10 Polymers and plastics \u003cbr data-mce-fragment=\"1\"\u003e5.11 Printing \u003cbr data-mce-fragment=\"1\"\u003e5.12 Wood \u003cbr data-mce-fragment=\"1\"\u003e\u003cstrong\u003e6 Polymer Modification to Improve Adhesion\u003c\/strong\u003e \u003cbr data-mce-fragment=\"1\"\u003e6.1 Selection of co-monomers \u003cbr data-mce-fragment=\"1\"\u003e6.2 Selection of polyols and isocyanates \u003cbr data-mce-fragment=\"1\"\u003e6.3 Modification of polymers by maleic anhydride \u003cbr data-mce-fragment=\"1\"\u003e6.4 Modification by epoxy group \u003cbr data-mce-fragment=\"1\"\u003e6.5 Silane grafting \u003cbr data-mce-fragment=\"1\"\u003e\u003cstrong\u003e7 Properties of Adhesion Promoters\u003c\/strong\u003e \u003cbr data-mce-fragment=\"1\"\u003e7.1 Acrylates \u003cbr data-mce-fragment=\"1\"\u003e7.2 Amines, amides, aminoamides \u003cbr data-mce-fragment=\"1\"\u003e7.3 Aryl diazonium salts \u003cbr data-mce-fragment=\"1\"\u003e7.4 Benzene derivatives \u003cbr data-mce-fragment=\"1\"\u003e7.5 Carbamic resin \u003cbr data-mce-fragment=\"1\"\u003e7.6 Chlorinated polyolefins \u003cbr data-mce-fragment=\"1\"\u003e7.7 Crosslinkers \u003cbr data-mce-fragment=\"1\"\u003e7.8 Epoxides \u003cbr data-mce-fragment=\"1\"\u003e7.9 Esters \u003cbr data-mce-fragment=\"1\"\u003e7.10 Inorganic compounds \u003cbr data-mce-fragment=\"1\"\u003e7.11 Ionomers \u003cbr data-mce-fragment=\"1\"\u003e7.12 Isocyanates \u003cbr data-mce-fragment=\"1\"\u003e7.13 Isocyanurates \u003cbr data-mce-fragment=\"1\"\u003e7.14 Lignin \u003cbr data-mce-fragment=\"1\"\u003e7.15 Maleic anhydride modified polymers \u003cbr data-mce-fragment=\"1\"\u003e7.16 Melamine \u003cbr data-mce-fragment=\"1\"\u003e7.17 Monomers \u003cbr data-mce-fragment=\"1\"\u003e7.18 Oligomers \u003cbr data-mce-fragment=\"1\"\u003e7.19 Phenol novolac resins \u003cbr data-mce-fragment=\"1\"\u003e7.20 Phosphoric acid esters \u003cbr data-mce-fragment=\"1\"\u003e7.21 Polymers and copolymers \u003cbr data-mce-fragment=\"1\"\u003e7.22 Polyols \u003cbr data-mce-fragment=\"1\"\u003e7.23 Resorcinol \u003cbr data-mce-fragment=\"1\"\u003e7.24 Rosin \u003cbr data-mce-fragment=\"1\"\u003e7.25 Silanes \u003cbr data-mce-fragment=\"1\"\u003e7.26 Silane+silica \u003cbr data-mce-fragment=\"1\"\u003e7.27 Silane+silicate \u003cbr data-mce-fragment=\"1\"\u003e7.28 Silane+titanate \u003cbr data-mce-fragment=\"1\"\u003e7.29 Sucrose derivatives \u003cbr data-mce-fragment=\"1\"\u003e7.30 Sulfur compounds \u003cbr data-mce-fragment=\"1\"\u003e7.31 Titanates \u003cbr data-mce-fragment=\"1\"\u003e\u003cstrong\u003e8 Selection of Adhesion Promoters for Different Substrates\u003c\/strong\u003e \u003cbr data-mce-fragment=\"1\"\u003e8.1 ABS \u003cbr data-mce-fragment=\"1\"\u003e8.2 Alkyd resins \u003cbr data-mce-fragment=\"1\"\u003e8.3 Cellulose and its derivatives \u003cbr data-mce-fragment=\"1\"\u003e8.4 Epoxy resin \u003cbr data-mce-fragment=\"1\"\u003e8.5 Glass \u003cbr data-mce-fragment=\"1\"\u003e8.6 Metal \u003cbr data-mce-fragment=\"1\"\u003e8.7 Poly(3,4-ethylenedioxythiophene) \u003cbr data-mce-fragment=\"1\"\u003e8.8 Polyamide \u003cbr data-mce-fragment=\"1\"\u003e8.9 Polyaniline \u003cbr data-mce-fragment=\"1\"\u003e8.10 Polycarbonate \u003cbr data-mce-fragment=\"1\"\u003e8.11 Polydimethylsiloxane \u003cbr data-mce-fragment=\"1\"\u003e8.12 Polyester \u003cbr data-mce-fragment=\"1\"\u003e8.13 Polyetheretherketone \u003cbr data-mce-fragment=\"1\"\u003e8.14 Polyethylene \u003cbr data-mce-fragment=\"1\"\u003e8.15 Polyimide \u003cbr data-mce-fragment=\"1\"\u003e8.16 Poly(lactic acid) \u003cbr data-mce-fragment=\"1\"\u003e8.17 Polypropylene \u003cbr data-mce-fragment=\"1\"\u003e8.18 Polystyrene \u003cbr data-mce-fragment=\"1\"\u003e8.19 Polysulfide \u003cbr data-mce-fragment=\"1\"\u003e8.20 Polysulfone \u003cbr data-mce-fragment=\"1\"\u003e8.21 Polytetrafluoroethylene \u003cbr data-mce-fragment=\"1\"\u003e8.22 Polyurethane \u003cbr data-mce-fragment=\"1\"\u003e8.23 Polyvinylalcohol \u003cbr data-mce-fragment=\"1\"\u003e8.24 Polyvinylbutyral \u003cbr data-mce-fragment=\"1\"\u003e8.25 Polyvinylchloride \u003cbr data-mce-fragment=\"1\"\u003e8.26 Poly(p-xylylene) \u003cbr data-mce-fragment=\"1\"\u003e8.27 Porcelain \u003cbr data-mce-fragment=\"1\"\u003e8.28 Rubber \u003cbr data-mce-fragment=\"1\"\u003e8.29 TPO \u003cbr data-mce-fragment=\"1\"\u003e\u003cstrong\u003e9 Selection of Adhesion Promoters for Different Products\u003c\/strong\u003e \u003cbr data-mce-fragment=\"1\"\u003e9.1 Adhesives \u003cbr data-mce-fragment=\"1\"\u003e9.2 Aerospace \u003cbr data-mce-fragment=\"1\"\u003e9.3 Agriculture \u003cbr data-mce-fragment=\"1\"\u003e9.4 Automotive \u003cbr data-mce-fragment=\"1\"\u003e9.5 Bitumen \u003cbr data-mce-fragment=\"1\"\u003e9.6 Ceramic tiles \u003cbr data-mce-fragment=\"1\"\u003e9.7 Coated fabrics \u003cbr data-mce-fragment=\"1\"\u003e9.8 Coatings and paints \u003cbr data-mce-fragment=\"1\"\u003e9.9 Coil coatings \u003cbr data-mce-fragment=\"1\"\u003e9.10 Composites \u003cbr data-mce-fragment=\"1\"\u003e9.11 Construction \u003cbr data-mce-fragment=\"1\"\u003e9.12 Cosmetics \u003cbr data-mce-fragment=\"1\"\u003e9.13 Dental \u003cbr data-mce-fragment=\"1\"\u003e9.14 Electrodes \u003cbr data-mce-fragment=\"1\"\u003e9.15 Electronics \u003cbr data-mce-fragment=\"1\"\u003e9.16 Flooring \u003cbr data-mce-fragment=\"1\"\u003e9.17 Food applications \u003cbr data-mce-fragment=\"1\"\u003e9.18 Inks \u003cbr data-mce-fragment=\"1\"\u003e9.19 Laminates \u003cbr data-mce-fragment=\"1\"\u003e9.20 Medical \u003cbr data-mce-fragment=\"1\"\u003e9.21 Membranes \u003cbr data-mce-fragment=\"1\"\u003e9.22 Metal coating \u003cbr data-mce-fragment=\"1\"\u003e9.23 Pharmaceutical \u003cbr data-mce-fragment=\"1\"\u003e9.24 Roofing \u003cbr data-mce-fragment=\"1\"\u003e9.25 Sealants \u003cbr data-mce-fragment=\"1\"\u003e9.26 Tires \u003cbr data-mce-fragment=\"1\"\u003e9.27 Waterproofing \u003cbr data-mce-fragment=\"1\"\u003e9.28 Wire \u0026amp; cable \u003cbr data-mce-fragment=\"1\"\u003e\u003cstrong\u003e10 Adhesion and Corrosion Protection \u003c\/strong\u003e\u003cbr data-mce-fragment=\"1\"\u003e\u003cstrong\u003eIndex\u003c\/strong\u003e\u003cbr data-mce-fragment=\"1\"\u003e\u003cbr\u003e\u003cbr\u003e\n\u003ch5\u003eAbout Author\u003c\/h5\u003e\nGeorge Wypych has PhD Eng. The professional expertise includes university teaching (full professor) and research \u0026amp; development (university and corporate). He has published 48 books (PVC Plastisols, Wroclaw University Press; Polyvinylchloride Degradation, Elsevier; Polyvinylchloride Stabilization, Elsevier; Polymer Modified Textile Materials, Wiley \u0026amp; Sons; Handbook of Material Weathering, 1st, 2nd, 3rd, 4th, 5th, 6th Edition, ChemTec Publishing; Handbook of Fillers, 1st, 2nd, 3rd, 4th, and 5th Edition, ChemTec Publishing; Recycling of PVC, ChemTec Publishing; Weathering of Plastics. Testing to Mirror Real Life Performance, Plastics Design Library, Handbook of Solvents, Vol. 1. Properties 1st, 2nd, and 3rd Edition, ChemTec Publishing, Handbook of Solvents, Vol. 2. Health \u0026amp; Environment 1st, 2nd, and 3rd Edition, ChemTec Publishing, Handbook of Plasticizers, 1st, 2nd, 3rd, 4th Edition, ChemTec Publishing, Handbook of Antistatics, 1st and 2nd Edition, ChemTec Publishing, Databook of Antistatics, 1st and 2nd Edition, ChemTec Publishing, Handbook of Antiblocking, Release and Slip Additives, 1st , 2nd and 3rd Edition, ChemTec Publishing, Industrial Solvents in Kirk-Othmer Encyclopedia of Chemical Technology (two editions), John Wiley \u0026amp; Sons, PVC Degradation \u0026amp; Stabilization, 1st, 2nd, 3rd, and 4th Editions, ChemTec Publishing, The PVC Formulary, 1st, 2nd, and 3rd Editions, ChemTec Publishing, Handbook of Material Biodegradation, Biodeterioration, and Biostabilization, 1st and 2nd Editions, ChemTec Publishing, Handbook of UV Degradation and Stabilization, 1st, 2nd, and 3rd Editions, ChemTec Publishing, Handbook of Polymers, 1st, 2nd, and 3rd Editions, ChemTec Publishing, Atlas of Material Damage, 1st, 2nd, and 3rd Editions, ChemTec Publishing, Handbook of Odors in Plastic Materials, 1st, 2nd, and 3rd Editions, ChemTec Publishing, Databook of Solvents (two editions), ChemTec Publishing, Databook of Blowing and Auxiliary Agents, ChemTec Publishing, Handbook of Foaming and Blowing Agents (two editions), ChemTec Publishing, Databook of Green Solvents, ChemTec Publishing (two editions), Self-healing Products (two editions), ChemTec Publishing, Handbook of Adhesion Promoters (two editions), ChemTec Publishing, Databook of Surface Modification Additives (two editions), ChemTec Publishing, Handbook of Surface Improvement and Modification (two editions), ChemTec Publishing, Graphene – Important Results and Applications, ChemTec Publishing, Handbook of Curatives and Crosslinkers, ChemTec Publishing, Chain Mobility and Progress in Medicine, Pharmaceutical, Polymer Science and Technology, Impact of Award, ChemTec Publishing, Databook of Antioxidants, ChemTec Publishing, Handbook of Antioxidants, ChemTec Publishing, Databook of UV Stabilizers (two Editions), ChemTec Publishing, Databook of Flame Retardants, ChemTec Publishing, Databook of Nucleating Agents, ChemTec Publishing, Handbook of Flame Retardants, ChemTec Publishing, Handbook of Nucleating Agents, ChemTec Publishing, Handbook of Polymers in Electronics, ChemTec Publishing, Databook of Impact Modifiers, ChemTec Publishing, Databook of Rheological Additives, ChemTec Publishing, Handbook of Impact Modifiers, ChemTec Publishing, Handbook of Rheological Additives, ChemTec Publishing, Databook of Polymer Processing Additives, ChemTec Publishing, Handbook of Polymer Processing Additives, ChemTec Publishing, Functional Fillers (two editions), 2 databases (Solvents Database, 1st, 2nd, 3rd Edition and Database of Antistatics 1st and 2nd Edition, both by ChemTec Publishing), and 42 scientific papers and obtained 16 patents. He specializes in PVC, polymer additives, material durability, and the development of sealants and coatings. He was included in the Dictionary of International Biography, Who's Who in Plastics and Polymers, and Who's Who in Engineering, and was selected International Man of the Year 1996-1997 in recognition of services to education.","published_at":"2023-02-24T14:28:53-05:00","created_at":"2023-02-24T14:15:19-05:00","vendor":"Chemtec Publishing","type":"Book","tags":["2023","additive","additives","adhesion","book","filler","fillers","new","polymer","polymers","properties","surface"],"price":33500,"price_min":33500,"price_max":33500,"available":true,"price_varies":false,"compare_at_price":null,"compare_at_price_min":0,"compare_at_price_max":0,"compare_at_price_varies":false,"variants":[{"id":43394020933789,"title":"Default Title","option1":"Default Title","option2":null,"option3":null,"sku":"","requires_shipping":true,"taxable":true,"featured_image":null,"available":true,"name":"Handbook of Adhesion Promoters, 2nd Ed.","public_title":null,"options":["Default Title"],"price":33500,"weight":1000,"compare_at_price":null,"inventory_quantity":0,"inventory_management":null,"inventory_policy":"continue","barcode":"978-1-77467-018-7","requires_selling_plan":false,"selling_plan_allocations":[]}],"images":["\/\/chemtec.org\/cdn\/shop\/products\/9781774670187-Case.png?v=1677266905"],"featured_image":"\/\/chemtec.org\/cdn\/shop\/products\/9781774670187-Case.png?v=1677266905","options":["Title"],"media":[{"alt":null,"id":27340098863261,"position":1,"preview_image":{"aspect_ratio":0.658,"height":450,"width":296,"src":"\/\/chemtec.org\/cdn\/shop\/products\/9781774670187-Case.png?v=1677266905"},"aspect_ratio":0.658,"height":450,"media_type":"image","src":"\/\/chemtec.org\/cdn\/shop\/products\/9781774670187-Case.png?v=1677266905","width":296}],"requires_selling_plan":false,"selling_plan_groups":[],"content":"\u003ch5\u003eDescription\u003c\/h5\u003e\nAuthor: George Wypych\u003cbr\u003eISBN 978-1-77467-018-7 \u003cbr\u003e\u003cbr\u003e \u003cmeta charset=\"utf-8\"\u003e\n\u003cp\u003ePages 322+vi\u003cbr\u003eFigures 154\u003cbr\u003ePublished Jan. 2023\u003cbr\u003e\u003c\/p\u003e\n\u003ch5\u003eSummary\u003c\/h5\u003e\n\u003cp\u003eAdhesion promoters form a significant group of additives, without, which many industrial products cannot perform according to requirements. The knowledge on this subject mostly related to silanes, which form the most widely used group of these additives, is frequently based on the book which was published at the beginning of 1980s by a scientist who developed many silanes used until today. Since then, many new additives were introduced into the market. Most of these new additives are not based on silanes but on one of over 30 chemical groups of chemical compounds needed for a variety of products in which silanes do not function, are too expensive, or better performance can be achieved with these new additives.\u003cbr\u003e\u003cbr\u003eThis book fills the existing gap in the literature, which still lacks the most recent comprehensive review of current options and knowledge. Handbook of Adhesion Promoters contains 10 chapters, each discussing essential aspects of the application of adhesion promoters. The known mechanisms which belong to one of 13 groups outline principles of use, action, and application of these additives. This chapter is followed by the discussion of mechanisms that cause adhesion loss, such as corrosion, delamination, detachment, liquid penetration, and peeling.\u003cbr\u003e\u003cbr\u003eSurface condition and its treatment are discussed regarding surface treatment by different methods (cleaning, mechanical, plasma, microwave, flame, corona discharge, laser, UV, and chemical modification), which are used in practical applications. All these are illustrated with practical examples.\u003cbr\u003e\u003cbr\u003eChapter 5 gives formulations of typical primers used in the application of adhesives and sealants, coatings, coil coatings, cosmetics, dental, leather, metal, optical devices, paper, polymers and plastics, printing, and wood. This chapter contains over 50 primer formulations.\u003cbr\u003e\u003cbr\u003eA full chapter is devoted to the subject of polymer modification which can improve adhesion – a method frequently used instead of the addition of adhesion promoters. The properties of (over 30 groups of adhesion promoters and their potential applications are discussed in the chapter devoted to this subject based on published articles, manufacturers' information, and analysis of patents.\u003cbr\u003e\u003cbr\u003eThe last three chapters contain information on available evaluation and selection of adhesion promoters that work with different polymers (29), products (28) and help to prevent corrosion. A full list of covered polymers and products is given in the table of contents below.\u003cbr\u003e\u003cbr\u003eIn addition to the theoretical and practical knowledge required to effectively formulate products used in various applications discussed in this book, there is also available Databook of Adhesion Promoters, which contains data on many most extensively used commercial additives. Both books contain the most recent information available in literature, patents, and published by manufacturers and users of these products. \u003cbr\u003eThe Handbook of Adhesion Promoters is an important reference for chemists, engineers, and materials scientists in various industries. It is also suitable as a reference book for advanced graduate students.\u003cbr\u003eIt is recommended for readers interested in all aspects of polymers and plastics, with special attention to the development, studies, legislation, and production of adhesives, aerospace, agriculture, automotive, bitumen, ceramic tiles, coated fabrics, coatings and paints, coil coatings, composites, construction, cosmetics, dental, electrodes, electronics, flooring, food applications, inks, laminates, medical, membranes, metal coating, pharmaceutical, roofing, sealants, tires, waterproofing, and wire \u0026amp; cable.\u003cbr\u003e\u003c\/p\u003e\n\u003ch5\u003eTable of Contents\u003c\/h5\u003e\n\u003cstrong\u003e1 Introduction\u003c\/strong\u003e \u003cbr data-mce-fragment=\"1\"\u003e1.1 Definitions \u003cbr data-mce-fragment=\"1\"\u003e1.2 History \u003cbr data-mce-fragment=\"1\"\u003e\u003cstrong\u003e2 Mechanisms of Adhesion\u003c\/strong\u003e \u003cbr data-mce-fragment=\"1\"\u003e2.1 Mechanical interlocking \u003cbr data-mce-fragment=\"1\"\u003e2.2 Surface condition and shape \u003cbr data-mce-fragment=\"1\"\u003e2.3 Diffusion and entanglement \u003cbr data-mce-fragment=\"1\"\u003e2.4 Adsorption\/interaction \u003cbr data-mce-fragment=\"1\"\u003e2.5 Acid-base and electrostatic interactions\u003cbr data-mce-fragment=\"1\"\u003e2.5.1 Acid-base interactions \u003cbr data-mce-fragment=\"1\"\u003e2.5.2 Electrostatic interactions \u003cbr data-mce-fragment=\"1\"\u003e2.6 Surface free energy and wetting \u003cbr data-mce-fragment=\"1\"\u003e2.7 Crystalline properties \u003cbr data-mce-fragment=\"1\"\u003e2.8 Interphase formation \u003cbr data-mce-fragment=\"1\"\u003e2.9 Chemical bonding \u003cbr data-mce-fragment=\"1\"\u003e2.10 Hydrogen bonding \u003cbr data-mce-fragment=\"1\"\u003e2.11 Reversible hydrolysis \u003cbr data-mce-fragment=\"1\"\u003e2.12 Microbiological and biological adhesion \u003cbr data-mce-fragment=\"1\"\u003e2.13 Cellular adhesion \u003cbr data-mce-fragment=\"1\"\u003e\u003cstrong\u003e3 Mechanisms of Adhesion Loss\u003c\/strong\u003e \u003cbr data-mce-fragment=\"1\"\u003e3.1 Corrosion \u003cbr data-mce-fragment=\"1\"\u003e3.2 Delamination \u003cbr data-mce-fragment=\"1\"\u003e3.3 Detachment \u003cbr data-mce-fragment=\"1\"\u003e3.4 Debonding \u003cbr data-mce-fragment=\"1\"\u003e3.5 Liquid penetration \u003cbr data-mce-fragment=\"1\"\u003e3.6 Peeling \u003cbr data-mce-fragment=\"1\"\u003e\u003cstrong\u003e4 Substrates - Surface Condition and Treatment\u003c\/strong\u003e \u003cbr data-mce-fragment=\"1\"\u003e4.1 Surface evaluation \u003cbr data-mce-fragment=\"1\"\u003e4.2 Surface treatment \u003cbr data-mce-fragment=\"1\"\u003e4.2.1 Cleaning \u003cbr data-mce-fragment=\"1\"\u003e4.2.2 Mechanical \u003cbr data-mce-fragment=\"1\"\u003e4.2.3 Plasma \u003cbr data-mce-fragment=\"1\"\u003e4.2.4 Microwave plasma \u003cbr data-mce-fragment=\"1\"\u003e4.2.5 Flame \u003cbr data-mce-fragment=\"1\"\u003e4.2.6 Corona discharge \u003cbr data-mce-fragment=\"1\"\u003e4.2.7 Laser \u003cbr data-mce-fragment=\"1\"\u003e4.2.8 UV \u003cbr data-mce-fragment=\"1\"\u003e4.2.9 Chemical modification \u003cbr data-mce-fragment=\"1\"\u003e\u003cstrong\u003e5 Typical Primer Formulations and Applications to Different Substrates\u003c\/strong\u003e \u003cbr data-mce-fragment=\"1\"\u003e5.1 Adhesives and sealants \u003cbr data-mce-fragment=\"1\"\u003e5.2 Coatings \u003cbr data-mce-fragment=\"1\"\u003e5.3 Coil coating \u003cbr data-mce-fragment=\"1\"\u003e5.4 Cosmetics \u003cbr data-mce-fragment=\"1\"\u003e5.5 Dental \u003cbr data-mce-fragment=\"1\"\u003e5.6 Leather \u003cbr data-mce-fragment=\"1\"\u003e5.7 Metal \u003cbr data-mce-fragment=\"1\"\u003e5.8 Optical devices \u003cbr data-mce-fragment=\"1\"\u003e5.9 Paper \u003cbr data-mce-fragment=\"1\"\u003e5.10 Polymers and plastics \u003cbr data-mce-fragment=\"1\"\u003e5.11 Printing \u003cbr data-mce-fragment=\"1\"\u003e5.12 Wood \u003cbr data-mce-fragment=\"1\"\u003e\u003cstrong\u003e6 Polymer Modification to Improve Adhesion\u003c\/strong\u003e \u003cbr data-mce-fragment=\"1\"\u003e6.1 Selection of co-monomers \u003cbr data-mce-fragment=\"1\"\u003e6.2 Selection of polyols and isocyanates \u003cbr data-mce-fragment=\"1\"\u003e6.3 Modification of polymers by maleic anhydride \u003cbr data-mce-fragment=\"1\"\u003e6.4 Modification by epoxy group \u003cbr data-mce-fragment=\"1\"\u003e6.5 Silane grafting \u003cbr data-mce-fragment=\"1\"\u003e\u003cstrong\u003e7 Properties of Adhesion Promoters\u003c\/strong\u003e \u003cbr data-mce-fragment=\"1\"\u003e7.1 Acrylates \u003cbr data-mce-fragment=\"1\"\u003e7.2 Amines, amides, aminoamides \u003cbr data-mce-fragment=\"1\"\u003e7.3 Aryl diazonium salts \u003cbr data-mce-fragment=\"1\"\u003e7.4 Benzene derivatives \u003cbr data-mce-fragment=\"1\"\u003e7.5 Carbamic resin \u003cbr data-mce-fragment=\"1\"\u003e7.6 Chlorinated polyolefins \u003cbr data-mce-fragment=\"1\"\u003e7.7 Crosslinkers \u003cbr data-mce-fragment=\"1\"\u003e7.8 Epoxides \u003cbr data-mce-fragment=\"1\"\u003e7.9 Esters \u003cbr data-mce-fragment=\"1\"\u003e7.10 Inorganic compounds \u003cbr data-mce-fragment=\"1\"\u003e7.11 Ionomers \u003cbr data-mce-fragment=\"1\"\u003e7.12 Isocyanates \u003cbr data-mce-fragment=\"1\"\u003e7.13 Isocyanurates \u003cbr data-mce-fragment=\"1\"\u003e7.14 Lignin \u003cbr data-mce-fragment=\"1\"\u003e7.15 Maleic anhydride modified polymers \u003cbr data-mce-fragment=\"1\"\u003e7.16 Melamine \u003cbr data-mce-fragment=\"1\"\u003e7.17 Monomers \u003cbr data-mce-fragment=\"1\"\u003e7.18 Oligomers \u003cbr data-mce-fragment=\"1\"\u003e7.19 Phenol novolac resins \u003cbr data-mce-fragment=\"1\"\u003e7.20 Phosphoric acid esters \u003cbr data-mce-fragment=\"1\"\u003e7.21 Polymers and copolymers \u003cbr data-mce-fragment=\"1\"\u003e7.22 Polyols \u003cbr data-mce-fragment=\"1\"\u003e7.23 Resorcinol \u003cbr data-mce-fragment=\"1\"\u003e7.24 Rosin \u003cbr data-mce-fragment=\"1\"\u003e7.25 Silanes \u003cbr data-mce-fragment=\"1\"\u003e7.26 Silane+silica \u003cbr data-mce-fragment=\"1\"\u003e7.27 Silane+silicate \u003cbr data-mce-fragment=\"1\"\u003e7.28 Silane+titanate \u003cbr data-mce-fragment=\"1\"\u003e7.29 Sucrose derivatives \u003cbr data-mce-fragment=\"1\"\u003e7.30 Sulfur compounds \u003cbr data-mce-fragment=\"1\"\u003e7.31 Titanates \u003cbr data-mce-fragment=\"1\"\u003e\u003cstrong\u003e8 Selection of Adhesion Promoters for Different Substrates\u003c\/strong\u003e \u003cbr data-mce-fragment=\"1\"\u003e8.1 ABS \u003cbr data-mce-fragment=\"1\"\u003e8.2 Alkyd resins \u003cbr data-mce-fragment=\"1\"\u003e8.3 Cellulose and its derivatives \u003cbr data-mce-fragment=\"1\"\u003e8.4 Epoxy resin \u003cbr data-mce-fragment=\"1\"\u003e8.5 Glass \u003cbr data-mce-fragment=\"1\"\u003e8.6 Metal \u003cbr data-mce-fragment=\"1\"\u003e8.7 Poly(3,4-ethylenedioxythiophene) \u003cbr data-mce-fragment=\"1\"\u003e8.8 Polyamide \u003cbr data-mce-fragment=\"1\"\u003e8.9 Polyaniline \u003cbr data-mce-fragment=\"1\"\u003e8.10 Polycarbonate \u003cbr data-mce-fragment=\"1\"\u003e8.11 Polydimethylsiloxane \u003cbr data-mce-fragment=\"1\"\u003e8.12 Polyester \u003cbr data-mce-fragment=\"1\"\u003e8.13 Polyetheretherketone \u003cbr data-mce-fragment=\"1\"\u003e8.14 Polyethylene \u003cbr data-mce-fragment=\"1\"\u003e8.15 Polyimide \u003cbr data-mce-fragment=\"1\"\u003e8.16 Poly(lactic acid) \u003cbr data-mce-fragment=\"1\"\u003e8.17 Polypropylene \u003cbr data-mce-fragment=\"1\"\u003e8.18 Polystyrene \u003cbr data-mce-fragment=\"1\"\u003e8.19 Polysulfide \u003cbr data-mce-fragment=\"1\"\u003e8.20 Polysulfone \u003cbr data-mce-fragment=\"1\"\u003e8.21 Polytetrafluoroethylene \u003cbr data-mce-fragment=\"1\"\u003e8.22 Polyurethane \u003cbr data-mce-fragment=\"1\"\u003e8.23 Polyvinylalcohol \u003cbr data-mce-fragment=\"1\"\u003e8.24 Polyvinylbutyral \u003cbr data-mce-fragment=\"1\"\u003e8.25 Polyvinylchloride \u003cbr data-mce-fragment=\"1\"\u003e8.26 Poly(p-xylylene) \u003cbr data-mce-fragment=\"1\"\u003e8.27 Porcelain \u003cbr data-mce-fragment=\"1\"\u003e8.28 Rubber \u003cbr data-mce-fragment=\"1\"\u003e8.29 TPO \u003cbr data-mce-fragment=\"1\"\u003e\u003cstrong\u003e9 Selection of Adhesion Promoters for Different Products\u003c\/strong\u003e \u003cbr data-mce-fragment=\"1\"\u003e9.1 Adhesives \u003cbr data-mce-fragment=\"1\"\u003e9.2 Aerospace \u003cbr data-mce-fragment=\"1\"\u003e9.3 Agriculture \u003cbr data-mce-fragment=\"1\"\u003e9.4 Automotive \u003cbr data-mce-fragment=\"1\"\u003e9.5 Bitumen \u003cbr data-mce-fragment=\"1\"\u003e9.6 Ceramic tiles \u003cbr data-mce-fragment=\"1\"\u003e9.7 Coated fabrics \u003cbr data-mce-fragment=\"1\"\u003e9.8 Coatings and paints \u003cbr data-mce-fragment=\"1\"\u003e9.9 Coil coatings \u003cbr data-mce-fragment=\"1\"\u003e9.10 Composites \u003cbr data-mce-fragment=\"1\"\u003e9.11 Construction \u003cbr data-mce-fragment=\"1\"\u003e9.12 Cosmetics \u003cbr data-mce-fragment=\"1\"\u003e9.13 Dental \u003cbr data-mce-fragment=\"1\"\u003e9.14 Electrodes \u003cbr data-mce-fragment=\"1\"\u003e9.15 Electronics \u003cbr data-mce-fragment=\"1\"\u003e9.16 Flooring \u003cbr data-mce-fragment=\"1\"\u003e9.17 Food applications \u003cbr data-mce-fragment=\"1\"\u003e9.18 Inks \u003cbr data-mce-fragment=\"1\"\u003e9.19 Laminates \u003cbr data-mce-fragment=\"1\"\u003e9.20 Medical \u003cbr data-mce-fragment=\"1\"\u003e9.21 Membranes \u003cbr data-mce-fragment=\"1\"\u003e9.22 Metal coating \u003cbr data-mce-fragment=\"1\"\u003e9.23 Pharmaceutical \u003cbr data-mce-fragment=\"1\"\u003e9.24 Roofing \u003cbr data-mce-fragment=\"1\"\u003e9.25 Sealants \u003cbr data-mce-fragment=\"1\"\u003e9.26 Tires \u003cbr data-mce-fragment=\"1\"\u003e9.27 Waterproofing \u003cbr data-mce-fragment=\"1\"\u003e9.28 Wire \u0026amp; cable \u003cbr data-mce-fragment=\"1\"\u003e\u003cstrong\u003e10 Adhesion and Corrosion Protection \u003c\/strong\u003e\u003cbr data-mce-fragment=\"1\"\u003e\u003cstrong\u003eIndex\u003c\/strong\u003e\u003cbr data-mce-fragment=\"1\"\u003e\u003cbr\u003e\u003cbr\u003e\n\u003ch5\u003eAbout Author\u003c\/h5\u003e\nGeorge Wypych has PhD Eng. The professional expertise includes university teaching (full professor) and research \u0026amp; development (university and corporate). He has published 48 books (PVC Plastisols, Wroclaw University Press; Polyvinylchloride Degradation, Elsevier; Polyvinylchloride Stabilization, Elsevier; Polymer Modified Textile Materials, Wiley \u0026amp; Sons; Handbook of Material Weathering, 1st, 2nd, 3rd, 4th, 5th, 6th Edition, ChemTec Publishing; Handbook of Fillers, 1st, 2nd, 3rd, 4th, and 5th Edition, ChemTec Publishing; Recycling of PVC, ChemTec Publishing; Weathering of Plastics. Testing to Mirror Real Life Performance, Plastics Design Library, Handbook of Solvents, Vol. 1. Properties 1st, 2nd, and 3rd Edition, ChemTec Publishing, Handbook of Solvents, Vol. 2. Health \u0026amp; Environment 1st, 2nd, and 3rd Edition, ChemTec Publishing, Handbook of Plasticizers, 1st, 2nd, 3rd, 4th Edition, ChemTec Publishing, Handbook of Antistatics, 1st and 2nd Edition, ChemTec Publishing, Databook of Antistatics, 1st and 2nd Edition, ChemTec Publishing, Handbook of Antiblocking, Release and Slip Additives, 1st , 2nd and 3rd Edition, ChemTec Publishing, Industrial Solvents in Kirk-Othmer Encyclopedia of Chemical Technology (two editions), John Wiley \u0026amp; Sons, PVC Degradation \u0026amp; Stabilization, 1st, 2nd, 3rd, and 4th Editions, ChemTec Publishing, The PVC Formulary, 1st, 2nd, and 3rd Editions, ChemTec Publishing, Handbook of Material Biodegradation, Biodeterioration, and Biostabilization, 1st and 2nd Editions, ChemTec Publishing, Handbook of UV Degradation and Stabilization, 1st, 2nd, and 3rd Editions, ChemTec Publishing, Handbook of Polymers, 1st, 2nd, and 3rd Editions, ChemTec Publishing, Atlas of Material Damage, 1st, 2nd, and 3rd Editions, ChemTec Publishing, Handbook of Odors in Plastic Materials, 1st, 2nd, and 3rd Editions, ChemTec Publishing, Databook of Solvents (two editions), ChemTec Publishing, Databook of Blowing and Auxiliary Agents, ChemTec Publishing, Handbook of Foaming and Blowing Agents (two editions), ChemTec Publishing, Databook of Green Solvents, ChemTec Publishing (two editions), Self-healing Products (two editions), ChemTec Publishing, Handbook of Adhesion Promoters (two editions), ChemTec Publishing, Databook of Surface Modification Additives (two editions), ChemTec Publishing, Handbook of Surface Improvement and Modification (two editions), ChemTec Publishing, Graphene – Important Results and Applications, ChemTec Publishing, Handbook of Curatives and Crosslinkers, ChemTec Publishing, Chain Mobility and Progress in Medicine, Pharmaceutical, Polymer Science and Technology, Impact of Award, ChemTec Publishing, Databook of Antioxidants, ChemTec Publishing, Handbook of Antioxidants, ChemTec Publishing, Databook of UV Stabilizers (two Editions), ChemTec Publishing, Databook of Flame Retardants, ChemTec Publishing, Databook of Nucleating Agents, ChemTec Publishing, Handbook of Flame Retardants, ChemTec Publishing, Handbook of Nucleating Agents, ChemTec Publishing, Handbook of Polymers in Electronics, ChemTec Publishing, Databook of Impact Modifiers, ChemTec Publishing, Databook of Rheological Additives, ChemTec Publishing, Handbook of Impact Modifiers, ChemTec Publishing, Handbook of Rheological Additives, ChemTec Publishing, Databook of Polymer Processing Additives, ChemTec Publishing, Handbook of Polymer Processing Additives, ChemTec Publishing, Functional Fillers (two editions), 2 databases (Solvents Database, 1st, 2nd, 3rd Edition and Database of Antistatics 1st and 2nd Edition, both by ChemTec Publishing), and 42 scientific papers and obtained 16 patents. He specializes in PVC, polymer additives, material durability, and the development of sealants and coatings. He was included in the Dictionary of International Biography, Who's Who in Plastics and Polymers, and Who's Who in Engineering, and was selected International Man of the Year 1996-1997 in recognition of services to education."}
{"id":7703563108509,"title":"Handbook of Odors in Plastic Materials, 3rd Ed.","handle":"handbook-of-odors-in-plastic-materials-3rd-ed","description":"\u003ch5\u003eDescription\u003c\/h5\u003e\n\u003cp\u003e\u003cbr\u003eAuthor: George Wypych \u003cbr\u003eISBN 978-1-77467-020-0 (hard copy)  \u003cbr\u003e\u003cbr\u003ePublished: Jan. 2023 \u003cbr data-mce-fragment=\"1\"\u003ePages: 390 + viii\u003cbr data-mce-fragment=\"1\"\u003eFigures: 77\u003cbr data-mce-fragment=\"1\"\u003eTables: 33\u003cbr data-mce-fragment=\"1\"\u003e\u003cbr\u003e\u003c\/p\u003e\n\u003cp\u003e \u003c\/p\u003e\n\u003ch5\u003eSummary\u003c\/h5\u003e\n\u003cp\u003eThis handbook will be of value to a wide range of people involved in the plastics industry, including plastic manufacturing engineers, material scientists and production personnel, quality assurance managers, and laboratory technicians.\u003cbr\u003e\u003cbr\u003eIt is the first book ever written on this crucial subject. The third edition contains a thorough review of the most recent data, achievements, and information in this less-known but very significant field of polymer modification. The odor of the product may decide whether a product is purchased by a customer or not. Odor is also an important reason for customer complaints, legislative work, legal disputes, and product returns. In scented products, the retention of volatile components is of particular interest. Many leading companies have recognized this as an opportunity, and they actively study and modify odors typical of their products.\u003cbr\u003e\u003cbr\u003eSeveral reasons are behind the formation of odors in plastic materials, including \u003cbr\u003e1. Properties of polymer\u003cbr\u003e2. Use of other materials than polymer, especially materials required in processing (additives)\u003cbr\u003e3. Process parameters and their effect on the severity of degradation of components of the formulation\u003cbr\u003e4. Exposure to different forms of radiation and oxygen\u003cbr\u003e5. Recycling of polymeric materials\u003cbr\u003e6. Contact with other products\u003cbr\u003e7. Storage\u003cbr\u003ea. Diffusion-related properties\u003cbr\u003eb. Migration-evaporation\u003cbr\u003ec. Storage in the same space\u003cbr\u003e\u003cbr\u003eThe above reasons are analyzed for different materials to find out the best methods to prevent unwanted odor formation. Three chapters are devoted to the analysis of odor-related matters in different polymers, products, and methods of processing. Almost forty polymers and forty-two product groups are analyzed based on research publications and patents.\u003cbr\u003e\u003cbr\u003eOther important chapters discuss the mechanism of odor formation and its transport within a material, distinctive odors found in plastic materials, taste, and fogging.\u003cbr\u003e\u003cbr\u003eThe book also contains information on testing odor changes, the relationship between odor and toxicity, as well as a selection of raw materials for fog-free products.\u003cbr\u003e\u003cbr\u003eHandbook of Odors in Plastic Materials presents a comprehensive treatise of the state-of-the-art in all aspects of plastic odor. It covers general techniques for testing, evaluation, and control of plastic odors; identification techniques for plastics derived from renewable feedstocks; deodorants and antiozonants; waste management and its impact on the environment; legislation affecting plastic odor-related products; and future trends toward environmental sustainability.\u003cbr\u003e\u003cbr\u003eThe Handbook of Odors in Plastic Materials is needed by anyone interested in plastic materials. The book contains complete information based on hard-to-find source publications and numerous patents.\u003cbr\u003e\u003c\/p\u003e\n\u003cbr\u003e\u003cbr\u003e\n\u003ch5\u003eTable of Contents\u003c\/h5\u003e\n\u003cp\u003e \u003c\/p\u003e\n\u003cp\u003e1 Introduction \u003cbr data-mce-fragment=\"1\"\u003e2 Mechanisms of odor formation and its transport\u003cbr data-mce-fragment=\"1\"\u003e3 Distinctive odors\u003cbr data-mce-fragment=\"1\"\u003e4 Taste \u003cbr data-mce-fragment=\"1\"\u003e5 Fogging \u003cbr data-mce-fragment=\"1\"\u003e6 Reasons for odor formation in plastic materials\u003cbr data-mce-fragment=\"1\"\u003e7 Methods of testing in odor analysis\u003cbr data-mce-fragment=\"1\"\u003e8 Odor in relation to different polymers\u003cbr data-mce-fragment=\"1\"\u003e9 Odor in various products\u003cbr data-mce-fragment=\"1\"\u003e10 Effect of processing method\u003cbr data-mce-fragment=\"1\"\u003e11 Methods of odor removal\u003cbr data-mce-fragment=\"1\"\u003e12 Regulations \u003cbr data-mce-fragment=\"1\"\u003e13 Health and safety \u003cbr data-mce-fragment=\"1\"\u003e14 Indoor air quality\u003cbr data-mce-fragment=\"1\"\u003eIndex\u003cbr data-mce-fragment=\"1\"\u003e\u003c\/p\u003e\n\u003ch5\u003eAbout Author\u003c\/h5\u003e\nGeorge Wypych has PhD Eng. The professional expertise includes university teaching (full professor) and research \u0026amp; development (university and corporate). He has published 48 books (PVC Plastisols, Wroclaw University Press; Polyvinylchloride Degradation, Elsevier; Polyvinylchloride Stabilization, Elsevier; Polymer Modified Textile Materials, Wiley \u0026amp; Sons; Handbook of Material Weathering, 1st, 2nd, 3rd, 4th, 5th, 6th Edition, ChemTec Publishing; Handbook of Fillers, 1st, 2nd, 3rd, 4th, and 5th Edition, ChemTec Publishing; Recycling of PVC, ChemTec Publishing; Weathering of Plastics. Testing to Mirror Real Life Performance, Plastics Design Library, Handbook of Solvents, Vol. 1. Properties 1st, 2nd, and 3rd Edition, ChemTec Publishing, Handbook of Solvents, Vol. 2. Health \u0026amp; Environment 1st, 2nd, and 3rd Edition, ChemTec Publishing, Handbook of Plasticizers, 1st, 2nd, 3rd, 4th Edition, ChemTec Publishing, Handbook of Antistatics, 1st and 2nd Edition, ChemTec Publishing, Databook of Antistatics, 1st and 2nd Edition, ChemTec Publishing, Handbook of Antiblocking, Release and Slip Additives, 1st , 2nd and 3rd Edition, ChemTec Publishing, Industrial Solvents in Kirk-Othmer Encyclopedia of Chemical Technology (two editions), John Wiley \u0026amp; Sons, PVC Degradation \u0026amp; Stabilization, 1st, 2nd, 3rd, and 4th Editions, ChemTec Publishing, The PVC Formulary, 1st, 2nd, and 3rd Editions, ChemTec Publishing, Handbook of Material Biodegradation, Biodeterioration, and Biostabilization, 1st and 2nd Editions, ChemTec Publishing, Handbook of UV Degradation and Stabilization, 1st, 2nd, and 3rd Editions, ChemTec Publishing, Handbook of Polymers, 1st, 2nd, and 3rd Editions, ChemTec Publishing, Atlas of Material Damage, 1st, 2nd, and 3rd Editions, ChemTec Publishing, Handbook of Odors in Plastic Materials, 1st, 2nd, and 3rd Editions, ChemTec Publishing, Databook of Solvents (two editions), ChemTec Publishing, Databook of Blowing and Auxiliary Agents, ChemTec Publishing, Handbook of Foaming and Blowing Agents (two editions), ChemTec Publishing, Databook of Green Solvents, ChemTec Publishing (two editions), Self-healing Products (two editions), ChemTec Publishing, Handbook of Adhesion Promoters (two editions), ChemTec Publishing, Databook of Surface Modification Additives (two editions), ChemTec Publishing, Handbook of Surface Improvement and Modification (two editions), ChemTec Publishing, Graphene – Important Results and Applications, ChemTec Publishing, Handbook of Curatives and Crosslinkers, ChemTec Publishing, Chain Mobility and Progress in Medicine, Pharmaceutical, Polymer Science and Technology, Impact of Award, ChemTec Publishing, Databook of Antioxidants, ChemTec Publishing, Handbook of Antioxidants, ChemTec Publishing, Databook of UV Stabilizers (two Editions), ChemTec Publishing, Databook of Flame Retardants, ChemTec Publishing, Databook of Nucleating Agents, ChemTec Publishing, Handbook of Flame Retardants, ChemTec Publishing, Handbook of Nucleating Agents, ChemTec Publishing, Handbook of Polymers in Electronics, ChemTec Publishing, Databook of Impact Modifiers, ChemTec Publishing, Databook of Rheological Additives, ChemTec Publishing, Handbook of Impact Modifiers, ChemTec Publishing, Handbook of Rheological Additives, ChemTec Publishing, Databook of Polymer Processing Additives, ChemTec Publishing, Handbook of Polymer Processing Additives, ChemTec Publishing, Functional Fillers (two editions), 2 databases (Solvents Database, 1st, 2nd, 3rd Edition and Database of Antistatics 1st and 2nd Edition, both by ChemTec Publishing), and 42 scientific papers and obtained 16 patents. He specializes in PVC, polymer additives, material durability, and the development of sealants and coatings. He was included in the Dictionary of International Biography, Who's Who in Plastics and Polymers, and Who's Who in Engineering, and was selected International Man of the Year 1996-1997 in recognition of services to education.","published_at":"2023-02-24T14:14:51-05:00","created_at":"2023-02-24T14:07:49-05:00","vendor":"Chemtec Publishing","type":"Book","tags":["2023","book","environment","formation odor","general","new","plastic odor","plastics","storage","testning methods"],"price":35000,"price_min":35000,"price_max":35000,"available":true,"price_varies":false,"compare_at_price":null,"compare_at_price_min":0,"compare_at_price_max":0,"compare_at_price_varies":false,"variants":[{"id":43394004549789,"title":"Default Title","option1":"Default Title","option2":null,"option3":null,"sku":"","requires_shipping":true,"taxable":true,"featured_image":null,"available":true,"name":"Handbook of Odors in Plastic Materials, 3rd Ed.","public_title":null,"options":["Default Title"],"price":35000,"weight":1000,"compare_at_price":null,"inventory_quantity":0,"inventory_management":null,"inventory_policy":"deny","barcode":"978-1-77467-020-0","requires_selling_plan":false,"selling_plan_allocations":[]}],"images":["\/\/chemtec.org\/cdn\/shop\/products\/9781774670200-Case.png?v=1677265986"],"featured_image":"\/\/chemtec.org\/cdn\/shop\/products\/9781774670200-Case.png?v=1677265986","options":["Title"],"media":[{"alt":null,"id":27340037882013,"position":1,"preview_image":{"aspect_ratio":0.658,"height":450,"width":296,"src":"\/\/chemtec.org\/cdn\/shop\/products\/9781774670200-Case.png?v=1677265986"},"aspect_ratio":0.658,"height":450,"media_type":"image","src":"\/\/chemtec.org\/cdn\/shop\/products\/9781774670200-Case.png?v=1677265986","width":296}],"requires_selling_plan":false,"selling_plan_groups":[],"content":"\u003ch5\u003eDescription\u003c\/h5\u003e\n\u003cp\u003e\u003cbr\u003eAuthor: George Wypych \u003cbr\u003eISBN 978-1-77467-020-0 (hard copy)  \u003cbr\u003e\u003cbr\u003ePublished: Jan. 2023 \u003cbr data-mce-fragment=\"1\"\u003ePages: 390 + viii\u003cbr data-mce-fragment=\"1\"\u003eFigures: 77\u003cbr data-mce-fragment=\"1\"\u003eTables: 33\u003cbr data-mce-fragment=\"1\"\u003e\u003cbr\u003e\u003c\/p\u003e\n\u003cp\u003e \u003c\/p\u003e\n\u003ch5\u003eSummary\u003c\/h5\u003e\n\u003cp\u003eThis handbook will be of value to a wide range of people involved in the plastics industry, including plastic manufacturing engineers, material scientists and production personnel, quality assurance managers, and laboratory technicians.\u003cbr\u003e\u003cbr\u003eIt is the first book ever written on this crucial subject. The third edition contains a thorough review of the most recent data, achievements, and information in this less-known but very significant field of polymer modification. The odor of the product may decide whether a product is purchased by a customer or not. Odor is also an important reason for customer complaints, legislative work, legal disputes, and product returns. In scented products, the retention of volatile components is of particular interest. Many leading companies have recognized this as an opportunity, and they actively study and modify odors typical of their products.\u003cbr\u003e\u003cbr\u003eSeveral reasons are behind the formation of odors in plastic materials, including \u003cbr\u003e1. Properties of polymer\u003cbr\u003e2. Use of other materials than polymer, especially materials required in processing (additives)\u003cbr\u003e3. Process parameters and their effect on the severity of degradation of components of the formulation\u003cbr\u003e4. Exposure to different forms of radiation and oxygen\u003cbr\u003e5. Recycling of polymeric materials\u003cbr\u003e6. Contact with other products\u003cbr\u003e7. Storage\u003cbr\u003ea. Diffusion-related properties\u003cbr\u003eb. Migration-evaporation\u003cbr\u003ec. Storage in the same space\u003cbr\u003e\u003cbr\u003eThe above reasons are analyzed for different materials to find out the best methods to prevent unwanted odor formation. Three chapters are devoted to the analysis of odor-related matters in different polymers, products, and methods of processing. Almost forty polymers and forty-two product groups are analyzed based on research publications and patents.\u003cbr\u003e\u003cbr\u003eOther important chapters discuss the mechanism of odor formation and its transport within a material, distinctive odors found in plastic materials, taste, and fogging.\u003cbr\u003e\u003cbr\u003eThe book also contains information on testing odor changes, the relationship between odor and toxicity, as well as a selection of raw materials for fog-free products.\u003cbr\u003e\u003cbr\u003eHandbook of Odors in Plastic Materials presents a comprehensive treatise of the state-of-the-art in all aspects of plastic odor. It covers general techniques for testing, evaluation, and control of plastic odors; identification techniques for plastics derived from renewable feedstocks; deodorants and antiozonants; waste management and its impact on the environment; legislation affecting plastic odor-related products; and future trends toward environmental sustainability.\u003cbr\u003e\u003cbr\u003eThe Handbook of Odors in Plastic Materials is needed by anyone interested in plastic materials. The book contains complete information based on hard-to-find source publications and numerous patents.\u003cbr\u003e\u003c\/p\u003e\n\u003cbr\u003e\u003cbr\u003e\n\u003ch5\u003eTable of Contents\u003c\/h5\u003e\n\u003cp\u003e \u003c\/p\u003e\n\u003cp\u003e1 Introduction \u003cbr data-mce-fragment=\"1\"\u003e2 Mechanisms of odor formation and its transport\u003cbr data-mce-fragment=\"1\"\u003e3 Distinctive odors\u003cbr data-mce-fragment=\"1\"\u003e4 Taste \u003cbr data-mce-fragment=\"1\"\u003e5 Fogging \u003cbr data-mce-fragment=\"1\"\u003e6 Reasons for odor formation in plastic materials\u003cbr data-mce-fragment=\"1\"\u003e7 Methods of testing in odor analysis\u003cbr data-mce-fragment=\"1\"\u003e8 Odor in relation to different polymers\u003cbr data-mce-fragment=\"1\"\u003e9 Odor in various products\u003cbr data-mce-fragment=\"1\"\u003e10 Effect of processing method\u003cbr data-mce-fragment=\"1\"\u003e11 Methods of odor removal\u003cbr data-mce-fragment=\"1\"\u003e12 Regulations \u003cbr data-mce-fragment=\"1\"\u003e13 Health and safety \u003cbr data-mce-fragment=\"1\"\u003e14 Indoor air quality\u003cbr data-mce-fragment=\"1\"\u003eIndex\u003cbr data-mce-fragment=\"1\"\u003e\u003c\/p\u003e\n\u003ch5\u003eAbout Author\u003c\/h5\u003e\nGeorge Wypych has PhD Eng. The professional expertise includes university teaching (full professor) and research \u0026amp; development (university and corporate). He has published 48 books (PVC Plastisols, Wroclaw University Press; Polyvinylchloride Degradation, Elsevier; Polyvinylchloride Stabilization, Elsevier; Polymer Modified Textile Materials, Wiley \u0026amp; Sons; Handbook of Material Weathering, 1st, 2nd, 3rd, 4th, 5th, 6th Edition, ChemTec Publishing; Handbook of Fillers, 1st, 2nd, 3rd, 4th, and 5th Edition, ChemTec Publishing; Recycling of PVC, ChemTec Publishing; Weathering of Plastics. Testing to Mirror Real Life Performance, Plastics Design Library, Handbook of Solvents, Vol. 1. Properties 1st, 2nd, and 3rd Edition, ChemTec Publishing, Handbook of Solvents, Vol. 2. Health \u0026amp; Environment 1st, 2nd, and 3rd Edition, ChemTec Publishing, Handbook of Plasticizers, 1st, 2nd, 3rd, 4th Edition, ChemTec Publishing, Handbook of Antistatics, 1st and 2nd Edition, ChemTec Publishing, Databook of Antistatics, 1st and 2nd Edition, ChemTec Publishing, Handbook of Antiblocking, Release and Slip Additives, 1st , 2nd and 3rd Edition, ChemTec Publishing, Industrial Solvents in Kirk-Othmer Encyclopedia of Chemical Technology (two editions), John Wiley \u0026amp; Sons, PVC Degradation \u0026amp; Stabilization, 1st, 2nd, 3rd, and 4th Editions, ChemTec Publishing, The PVC Formulary, 1st, 2nd, and 3rd Editions, ChemTec Publishing, Handbook of Material Biodegradation, Biodeterioration, and Biostabilization, 1st and 2nd Editions, ChemTec Publishing, Handbook of UV Degradation and Stabilization, 1st, 2nd, and 3rd Editions, ChemTec Publishing, Handbook of Polymers, 1st, 2nd, and 3rd Editions, ChemTec Publishing, Atlas of Material Damage, 1st, 2nd, and 3rd Editions, ChemTec Publishing, Handbook of Odors in Plastic Materials, 1st, 2nd, and 3rd Editions, ChemTec Publishing, Databook of Solvents (two editions), ChemTec Publishing, Databook of Blowing and Auxiliary Agents, ChemTec Publishing, Handbook of Foaming and Blowing Agents (two editions), ChemTec Publishing, Databook of Green Solvents, ChemTec Publishing (two editions), Self-healing Products (two editions), ChemTec Publishing, Handbook of Adhesion Promoters (two editions), ChemTec Publishing, Databook of Surface Modification Additives (two editions), ChemTec Publishing, Handbook of Surface Improvement and Modification (two editions), ChemTec Publishing, Graphene – Important Results and Applications, ChemTec Publishing, Handbook of Curatives and Crosslinkers, ChemTec Publishing, Chain Mobility and Progress in Medicine, Pharmaceutical, Polymer Science and Technology, Impact of Award, ChemTec Publishing, Databook of Antioxidants, ChemTec Publishing, Handbook of Antioxidants, ChemTec Publishing, Databook of UV Stabilizers (two Editions), ChemTec Publishing, Databook of Flame Retardants, ChemTec Publishing, Databook of Nucleating Agents, ChemTec Publishing, Handbook of Flame Retardants, ChemTec Publishing, Handbook of Nucleating Agents, ChemTec Publishing, Handbook of Polymers in Electronics, ChemTec Publishing, Databook of Impact Modifiers, ChemTec Publishing, Databook of Rheological Additives, ChemTec Publishing, Handbook of Impact Modifiers, ChemTec Publishing, Handbook of Rheological Additives, ChemTec Publishing, Databook of Polymer Processing Additives, ChemTec Publishing, Handbook of Polymer Processing Additives, ChemTec Publishing, Functional Fillers (two editions), 2 databases (Solvents Database, 1st, 2nd, 3rd Edition and Database of Antistatics 1st and 2nd Edition, both by ChemTec Publishing), and 42 scientific papers and obtained 16 patents. He specializes in PVC, polymer additives, material durability, and the development of sealants and coatings. He was included in the Dictionary of International Biography, Who's Who in Plastics and Polymers, and Who's Who in Engineering, and was selected International Man of the Year 1996-1997 in recognition of services to education."}
{"id":7703557439645,"title":"Handbook of Plasticizers, 4th Edition","handle":"handbook-of-plasticizers-4th-edition","description":"\u003ch5\u003eDescription\u003c\/h5\u003e\n\u003cp\u003eEditor: George Wypych \u003cbr\u003eISBN 978-1- 77467-022-4 (hard copy)\u003cbr\u003e\u003cbr\u003ePublished: Jan. 2023 \u003cbr data-mce-fragment=\"1\"\u003ePages 894+xxii\u003cbr data-mce-fragment=\"1\"\u003eTables 115, Figures 360\u003cbr data-mce-fragment=\"1\"\u003e\u003cbr\u003e\u003c\/p\u003e\n\u003cp\u003e \u003c\/p\u003e\n\u003ch5\u003eSummary\u003c\/h5\u003e\n\u003cp\u003eHandbook of Plasticizers brings together in one place all that is known about this vital and rapidly expanding field. The book serves both as a basic reference source for researchers, engineers, and others involved in plastics processing, research and development as well as a source of ideas regarding future developments.\u003cbr\u003e\u003cbr\u003eThis book contains a comprehensive review of information available in the open literature, such as published scientific papers, information from plasticizer manufacturers, and patent literature. The information from the most recent sources was used to update information from previous editions. \u003cbr\u003eThe information available today permits the use of plasticizers more effectively and helps to avoid certain plasticizers in applications where they may cause health or material durability problems. The source of raw materials used to produce plasticizers is becoming one of the issues in their selection. The book contains information on plasticizers obtained from renewable resources. Plasticizer incorporation demands a broad background of information because plasticizers are now added to complex mixtures containing a variety of materials that may have different reactions to the presence of plasticizers. Plasticizer choice is also not simple because there is a large selection of commercial plasticizers and various environmental issues dictating preferred solutions.\u003cbr\u003e\u003cbr\u003eBoth aspects considered indicate the need for a comprehensive source which, using currently available means of the computerized database, should provide data and a broad background of theoretical information in a condensed form easy to search. \u003cbr\u003e\u003cbr\u003eNumerical data on the most important plasticizers are provided in the tabular form of the printed book entitled Databook of Plasticizers. \u003cbr\u003eTwenty-one chapters are included in the Handbook of Plasticizers. The full Table of Contents is given below. Only some chapters are discussed here to add more information that may not be obvious from the table of contents.\u003cbr\u003e\u003cbr\u003eData are available for a large number of commercial plasticizers. This data is used in Chapter 2 to specify typical properties of plasticizers that belong to one of the thirty-one groups. The ranges of expected properties for a given group are also given.\u003cbr\u003e\u003cbr\u003eChapters 5, 6, and 7 contain new and historical approaches, which explain the mechanisms of plasticizers' action and their behavior in plasticized systems. This theoretical background helps to understand practical observations and provides guidance to the methods of material improvement. Chapter 9 shows plasticization steps and results of various analytical studies, which help in understanding these steps and the parameters which may control them.\u003cbr\u003e\u003cbr\u003eTwenty-nine sections of Chapter 10 discuss plasticizers' effect on the physical and mechanical properties of plasticized materials. These sections are essential for understanding the behavior of materials and the principles of their formulation. \u003cbr\u003e\u003cbr\u003e\u003cbr\u003e\u003cbr\u003e\u003cbr\u003eChapter 11 contains data on the use of plasticizers in 61 groups of polymers. The information is grouped under the following sections – Frequently used plasticizers, Practical concentrations, Main functions performed by plasticizers, Mechanism of plasticizer action, Effect of plasticizers on polymer and other additives, and Typical formulations. The use of such a consistent method of data presentation helps to find information quickly and to compare data from various sources and applications. \u003cbr\u003e\u003cbr\u003eSimilarly, Chapter 13 discusses the use of plasticizers in 33 groups of products according to a similar breakdown, including Plasticizer types, Plasticizer concentration, Reasons for plasticizer use, Advantages and disadvantages of plasticizer use, Effect of plasticizers on product properties, and Examples of formulations. Both chapters make use of a large number of patents and information in open literature discussing the most current findings and trends.\u003cbr\u003e\u003cbr\u003eIn Chapter 14, attempts are being made to discuss the following topics: The effect of plasticizers on process conditions, Processing defects formation and elimination with the use of plasticizers, In the fluence of rheological changes on the process, Equipment maintenance, and energy consumption. This chapter discusses 15 methods of polymer and rubber processing.\u003cbr\u003eSeveral chapters which follow discuss various aspects of plasticizer's effect on health, safety, and the environment. Chapter 17 contains opinions of renowned experts on various aspects of plasticizers' effect on health and safety. Chapter 18 contains information on plasticizers' persistence in soil and water. Plasticizers releases and their presence in the environment are discussed for many important commercial plasticizers.\u003cbr\u003e\u003cbr\u003eThis short review and the Table of Contents show that this book is the most comprehensive source of current information on plasticizers. Plasticizers are used in so many products that every library should have this reference source of information on plasticizers readily available for its readers, especially considering that so many aspects of application plasticizers have recently changed that older books cannot provide the right answers. This book is best used in conjunction with the Plasticizer Database and\/or Databook of Plasticizers which give information on the present status and properties of industrial and research plasticizers.\u003cbr\u003e\u003c\/p\u003e\n\u003cbr\u003e \u003cbr\u003e\u003cbr\u003e\n\u003ch5\u003eTable of Contents\u003c\/h5\u003e\n\u003cp\u003e\u003cstrong\u003e1 INTRODUCTION\u003c\/strong\u003e \u003cbr\u003e George Wypych\u003cbr\u003e1.1 Historical developments \u003cbr\u003e1.2 Expectations from plasticizers \u003cbr\u003e1.3 Definitions \u003cbr\u003e1.4 Classification \u003cbr\u003e\u003cbr\u003e\u003cstrong\u003e2 PLASTICIZER TYPES\u003c\/strong\u003e \u003cbr\u003e George Wypych\u003cbr\u003e2.1 Introduction \u003cbr\u003e2.2 Characteristic properties of industrial plasticizers \u003cbr\u003e2.2.1 Abietates \u003cbr\u003e2.2.2 Adipates \u003cbr\u003e2.2.3 Alkyl sulfonates \u003cbr\u003e2.2.4 Amides and amines \u003cbr\u003e2.2.5 Azelates \u003cbr\u003e2.2.6 Benzoates \u003cbr\u003e2.2.7 Bioplasticizers \u003cbr\u003e2.2.8 Biodegradable plasticizers \u003cbr\u003e2.2.9 Chlorinated paraffins, \u003cbr\u003e2.2.10 Citrates \u003cbr\u003e2.2.11 Cyclohexane dicarboxylic acid, diisononyl ester \u003cbr\u003e2.2.12 Energetic plasticizers \u003cbr\u003e2.2.13 Epoxides \u003cbr\u003e2.2.14 Esters of C10-30 dicarboxylic acids \u003cbr\u003e2.2.15 Ether-ester plasticizers \u003cbr\u003e2.2.16 Glutarates \u003cbr\u003e2.2.17 Hydrocarbon oils \u003cbr\u003e2.2.18 Hydrocarbon resins \u003cbr\u003e2.2.19 Isobutyrates \u003cbr\u003e2.2.20 Maleates \u003cbr\u003e2.2.21 Oleates \u003cbr\u003e2.2.22 Pentaerythritol derivatives \u003cbr\u003e2.2.23 Phosphates \u003cbr\u003e2.2.24 Phthalate-free plasticizers \u003cbr\u003e2.2.25 Phthalates \u003cbr\u003e2.2.26 Polymeric plasticizers \u003cbr\u003e2.2.26.1 Esters \u003cbr\u003e2.2.26.2 Polybutenes \u003cbr\u003e2.26.3 Others \u003cbr\u003e2.2.27 Ricinoleates \u003cbr\u003e2.2.28 Sebacates \u003cbr\u003e2.2.29 Succinates \u003cbr\u003e2.2.30 Sulfonamides \u003cbr\u003e2.2.31 Superplasticizers and plasticizers for concrete \u003cbr\u003e2.2.32 Tri- and pyromellitates \u003cbr\u003e2.3 Methods of synthesis and their effect on properties of plasticizers \u003cbr\u003e2.4 Reactive plasticizers and internal plasticization \u003cbr\u003e\u003cbr\u003e\u003cstrong\u003e3 TYPICAL METHODS OF QUALITY CONTROL OF PLASTICIZERS\u003c\/strong\u003e \u003cbr\u003e George Wypych\u003cbr\u003e3.1 Abbreviations, terminology, and vocabulary \u003cbr\u003e3.2 Acid number \u003cbr\u003e3.3 Aging studies \u003cbr\u003e3.4 Ash \u003cbr\u003e3.5 Brittleness temperature \u003cbr\u003e3.6 Brookfield viscosity \u003cbr\u003e3.7 Chemical resistance \u003cbr\u003e3.8 Color \u003cbr\u003e3.9 Compatibility \u003cbr\u003e3.10 Compression set \u003cbr\u003e3.11 Concrete additives \u003cbr\u003e3.12 Electrical properties \u003cbr\u003e3.13 Extractable matter \u003cbr\u003e3.14 Flash and fire point \u003cbr\u003e3.15 Fogging \u003cbr\u003e3.16 Fusion \u003cbr\u003e3.17 Gas chromatography \u003cbr\u003e3.18 Hardness \u003cbr\u003e3.19 Infrared analysis of plasticizers \u003cbr\u003e3.20 Kinematic viscosity \u003cbr\u003e3.21 Marking (classification) \u003cbr\u003e3.22 Melt rheology \u003cbr\u003e3.23 Migration \u003cbr\u003e3.24 Polyvinylchloride  standard specification \u003cbr\u003e3.25 Powder-mix time \u003cbr\u003e3.26 Purity \u003cbr\u003e3.27 Refractive index \u003cbr\u003e3.28 Residual contamination \u003cbr\u003e3.29 Sampling \u003cbr\u003e3.30 Saponification value \u003cbr\u003e3.31 Saybolt viscosity \u003cbr\u003e3.32 Sorption of plasticizer \u003cbr\u003e3.33 Specific gravity \u003cbr\u003e3.34 Specification \u003cbr\u003e3.35 Staining \u003cbr\u003e3.36 Stiffness \u003cbr\u003e3.37 Tensile properties \u003cbr\u003e3.38 Thermal expansion coefficient \u003cbr\u003e3.39 Unsaponifiable contents \u003cbr\u003e3.40 Viscosity of plastisols and organosols \u003cbr\u003e3.41 Water concentration \u003cbr\u003e3.42 Weight loss \u003cbr\u003e\u003cbr\u003e\u003cstrong\u003e4 TRANSPORTATION AND STORAGE\u003c\/strong\u003e \u003cbr\u003e George Wypych\u003cbr\u003e4.1 Transportation \u003cbr\u003e4.2 Storage \u003cbr\u003e\u003cbr\u003e\u003cstrong\u003e5 MECHANISMS OF PLASTICIZERS ACTION\u003c\/strong\u003e \u003cbr\u003e A. Marcilla and M. Beltrán\u003cbr\u003e5.1 Classical theories \u003cbr\u003e5.1.1 The lubricity theory \u003cbr\u003e5.1.2 The gel theory \u003cbr\u003e5.1.3 Moorshead's empirical approach \u003cbr\u003e5.2 The free volume theory \u003cbr\u003e5.2.1 Mathematical models \u003cbr\u003e\u003cbr\u003e\u003cstrong\u003e6 COMPATIBILITY OF PLASTICIZERS 159\u003c\/strong\u003e\u003cbr\u003e George Wypych\u003cbr\u003e6.1 Prediction methods of plasticizer compatibility \u003cbr\u003e6.1.1 Flory-Huggins interaction parameter \u003cbr\u003e6.1.2 Prediction of Gibbs free energy of mixing UNIFAC-FV \u003cbr\u003e6.1.3 Molar volume \u003cbr\u003e6.1.4 Polarity \u003cbr\u003e6.1.5 Hansen solubility parameters \u003cbr\u003e6.1.6 Hoy solubility parameters and other methods based on solubility\u003cbr\u003e parameters \u003cbr\u003e6.1.7 Hildebrand solubility parameter \u003cbr\u003e6.1.8 Molecule charge density using COSMO \u003cbr\u003e6.1.9 Mesoscale simulation using DPD \u003cbr\u003e6.1.10 Ap\/Po ratio \u003cbr\u003e6.2 Validation methods \u003cbr\u003e6.2.1 DSC analysis \u003cbr\u003e6.2.2 Inverse gas chromatography \u003cbr\u003e6.2.3 Solid-gel transition temperature \u003cbr\u003e6.3 Effect of plasticizer structure and conditions of incorporation on\u003cbr\u003e compatibility \u003cbr\u003e6.3.1 Effect of plasticizer structure \u003cbr\u003e6.3.1.1 Aromaticity \u003cbr\u003e6.3.1.2 Branching \u003cbr\u003e6.3.1.3 Chain length \u003cbr\u003e6.3.1.4 Molecular weight \u003cbr\u003e6.3.1.5 Polarity \u003cbr\u003e6.3.2 Conditions of incorporation \u003cbr\u003e6.3.2.1 Amount (concentration) \u003cbr\u003e6.3.2.2 Method of processing \u003cbr\u003e6.3.2.3 Temperature \u003cbr\u003e6.4 Effect of plasticizer type on properties of plasticized material \u003cbr\u003e6.4.1 Crystallinity \u003cbr\u003e6.4.2 Exudation \u003cbr\u003e6.4.3 Permanence \u003cbr\u003e6.4.4 Thermal degradation \u003cbr\u003e6.4.5 Volatility \u003cbr\u003e\u003cbr\u003e\u003cstrong\u003e7 PLASTICIZER MOTION AND DIFFUSION\u003c\/strong\u003e \u003cbr\u003e George Wypych\u003cbr\u003e7.1 Plasticizer diffusion rate and the methods of study \u003cbr\u003e7.2 Plasticizer motion and distribution in the matrix \u003cbr\u003e7.3 Plasticizer migration \u003cbr\u003e7.4 Antiplasticization \u003cbr\u003e7.5 Effect of diffusion and mobility of plasticizers on their suitability \u003cbr\u003e\u003cbr\u003e\u003cstrong\u003e8 EFFECT OF PLASTICIZERS ON OTHER COMPONENTS OF FORMULATION\u003c\/strong\u003e \u003cbr\u003e George Wypych\u003cbr\u003e8.1 Plasticizer consumption by fillers \u003cbr\u003e8.2 Solubility of additives in plasticizers \u003cbr\u003e8.3 Additive molecular mobility and transport in the presence of\u003cbr\u003e plasticizers \u003cbr\u003e8.4 Effect of plasticizers on polymerization and curing reactions \u003cbr\u003e\u003cbr\u003e\u003cstrong\u003e9 PLASTICIZATION STEPS\u003c\/strong\u003e \u003cbr\u003e A. Marcilla, J.C. García and M. Beltrán\u003cbr\u003e9.1 Plasticization steps \u003cbr\u003e9.2 Studies of plastisol's behavior during gelation and fusion \u003cbr\u003e9.2.1 Rheological characterization \u003cbr\u003e9.2.2 Studies by Scanning Electron Microscopy \u003cbr\u003e9.2.3 Study of polymer-plasticizer interactions by DSC \u003cbr\u003e9.2.4 Study of polymer-plasticizer interactions by SALS \u003cbr\u003e9.2.5 Study of polymer-plasticizer interactions by FTIR \u003cbr\u003e9.2.6 Study of polymer-plasticizer interactions by TG \u003cbr\u003e\u003cbr\u003e\u003cstrong\u003e10 EFFECT OF PLASTICIZERS ON PROPERTIES OF PLASTICIZED MATERIALS\u003c\/strong\u003e\u003cbr\u003e George Wypych\u003cbr\u003e10.1 Mechanical properties \u003cbr\u003e10.1.1 Tensile strength \u003cbr\u003e10.1.2 Elongation \u003cbr\u003e10.1.3 Hardness \u003cbr\u003e10.1.4 Toughness, stiffness, ductility, modulus \u003cbr\u003e10.1.5 Other mechanical properties \u003cbr\u003e10.2 Optical properties \u003cbr\u003e10.3 Spectral properties \u003cbr\u003e10.4 Gloss \u003cbr\u003e10.5 Sound \u003cbr\u003e10.6 Rheological properties \u003cbr\u003e10.7 Magnetorheological properties \u003cbr\u003e10.8 Electrical properties \u003cbr\u003e10.9 Glass transition temperature \u003cbr\u003e10.10 Flammability and smoke formation in the presence of plasticizers \u003cbr\u003e10.11 Thermal degradation \u003cbr\u003e10.11.1 Thermal degradation of plasticizers \u003cbr\u003e10.11.2 Effect of polymer degradation products on plasticizers \u003cbr\u003e10.11.3 Effect of plasticizer degradation products on polymer degradation \u003cbr\u003e10.11.4 Loss of plasticizer from the material due to chemical decomposition\u003cbr\u003e reactions and evaporation \u003cbr\u003e10.11.5 Effect of plasticizers on the thermal degradation of materials \u003cbr\u003e10.12 Effect of UV and ionizing radiation on plasticized materials \u003cbr\u003e10.13 Hydrolysis \u003cbr\u003e10.14 Biodegradation in the presence of plasticizers \u003cbr\u003e10.15 Crystallization, structure, and orientation of macromolecules \u003cbr\u003e10.16 Morphology \u003cbr\u003e10.17 Plasticizer effect on contact with other materials \u003cbr\u003e10.18 Influence of plasticizers on swelling \u003cbr\u003e10.19 Fogging \u003cbr\u003e10.20 Hydrophobic\/hydrophilic properties \u003cbr\u003e10.21 Osmotic pressure of plasticizer in polymer \u003cbr\u003e10.22 Self-healing \u003cbr\u003e10.23 Shrinkage \u003cbr\u003e10.24 Soiling \u003cbr\u003e10.25 Free volume \u003cbr\u003e10.26 Dissolution \u003cbr\u003e10.27 Foaming \u003cbr\u003e10.28 Permeability \u003cbr\u003e10.29 Sorption \u003cbr\u003e\u003cbr\u003e\u003cstrong\u003e11 PLASTICIZERS USE AND SELECTION FOR SPECIFIC POLYMERS\u003c\/strong\u003e \u003cbr\u003e George Wypych\u003cbr\u003e11.1 ABS \u003cbr\u003e11.1.1 Frequently used plasticizers \u003cbr\u003e11.1.2 Practical concentrations \u003cbr\u003e11.1.3 Main functions performed by plasticizers \u003cbr\u003e11.1.4 Mechanism of plasticizer action \u003cbr\u003e11.1.5 Effect of plasticizers on polymer and other additives \u003cbr\u003e11.1.6 Typical formulations \u003cbr\u003e11.2 Acrylics \u003cbr\u003e11.2.1 Frequently used plasticizers \u003cbr\u003e11.2.2 Practical concentrations \u003cbr\u003e11.2.3 Main functions performed by plasticizers \u003cbr\u003e11.2.4 Mechanism of plasticizer action \u003cbr\u003e11.2.5 Typical formulations \u003cbr\u003e11.3 Bromobutyl rubber \u003cbr\u003e11.3.1 Frequently used plasticizers \u003cbr\u003e11.3.2 Practical concentrations \u003cbr\u003e11.3.3 Main functions performed by plasticizers \u003cbr\u003e11.3.4 Effect of plasticizers on polymer and other additives \u003cbr\u003e11.4 Butyl terpolymer \u003cbr\u003e11.4.1 Frequently used plasticizers \u003cbr\u003e11.4.2 Practical concentrations \u003cbr\u003e11.5 Cellulose acetate \u003cbr\u003e11.5.1 Frequently used plasticizers \u003cbr\u003e11.5.2 Practical concentrations \u003cbr\u003e11.5.3 Main functions performed by plasticizers \u003cbr\u003e11.5.4 Mechanism of plasticizer action \u003cbr\u003e11.5.5 Effect of plasticizers on polymer and other additives \u003cbr\u003e11.6 Cellulose butyrate and propionate \u003cbr\u003e11.6.1 Frequently used plasticizers \u003cbr\u003e11.6.2 Practical concentrations \u003cbr\u003e11.6.3 Main functions performed by plasticizers \u003cbr\u003e11.6.4 Effect of plasticizers on polymer and other additives \u003cbr\u003e11.7 Cellulose nitrate \u003cbr\u003e11.7.1 Frequently used plasticizers \u003cbr\u003e11.7.2 Practical concentrations \u003cbr\u003e11.7.3 Main functions performed by plasticizers \u003cbr\u003e11.7.4 Effect of plasticizers on polymer and other additives \u003cbr\u003e11.7.5 Typical formulations \u003cbr\u003e11.8 Chitosan \u003cbr\u003e11.8.1 Frequently used plasticizers \u003cbr\u003e11.8.2 Practical concentrations \u003cbr\u003e11.8.3 Main functions performed by plasticizers \u003cbr\u003e11.8.4 Effect of plasticizers on polymer and other additives \u003cbr\u003e11.9 Chlorinated polyvinylchloride \u003cbr\u003e11.9.1 Frequently used plasticizers \u003cbr\u003e11.9.2 Effect of plasticizers on polymer and other additives \u003cbr\u003e11.10 Chlorosulfonated polyethylene \u003cbr\u003e11.10.1 Frequently used plasticizers \u003cbr\u003e11.10.2 Effect of plasticizers on polymer and other additives \u003cbr\u003e11.11 Copolymers \u003cbr\u003e11.11.1 Frequently used plasticizers \u003cbr\u003e11.11.2 Practical concentrations \u003cbr\u003e11.11.3 Main functions performed by plasticizers \u003cbr\u003e11.11.4 Mechanism of plasticizer action \u003cbr\u003e11.12 Cyanoacrylates \u003cbr\u003e11.12.1 Frequently used plasticizers \u003cbr\u003e11.12.2 Practical concentrations \u003cbr\u003e11.12.3 Main functions performed by plasticizers \u003cbr\u003e11.12.4 Effect of plasticizer on polymer and other additives \u003cbr\u003e11.13 Ethylcellulose \u003cbr\u003e11.13.1 Frequently used plasticizers \u003cbr\u003e11.13.2 Practical concentrations \u003cbr\u003e11.13.3 Effect of plasticizers on polymer and other additives \u003cbr\u003e11.14 Epoxy resin \u003cbr\u003e11.14.1 Frequently used plasticizers \u003cbr\u003e11.14.2 Practical concentrations \u003cbr\u003e11.14.3 Main functions performed by plasticizers \u003cbr\u003e11.14.4 Effect of plasticizers on polymer and other additives \u003cbr\u003e11.15 Ethylene-propylene-diene copolymer \u003cbr\u003e11.15.1 Frequently used plasticizers \u003cbr\u003e11.15.2 Practical concentrations \u003cbr\u003e11.15.3 Main functions performed by plasticizers \u003cbr\u003e11.15.4 Effect of plasticizers on polymer and other additives \u003cbr\u003e11.15.5 Typical formulations \u003cbr\u003e11.16 Ethylene-vinyl acetate copolymer \u003cbr\u003e11.17 Ionomers \u003cbr\u003e11.17.1 Frequently used plasticizers \u003cbr\u003e11.17.2 Practical concentrations \u003cbr\u003e11.17.3 Main functions performed by plasticizers \u003cbr\u003e11.17.4 Mechanism of plasticizer action \u003cbr\u003e11.17.5 Effect of plasticizers on polymer and other additives \u003cbr\u003e11.18 Nitrile rubber \u003cbr\u003e11.18.1 Frequently used plasticizers \u003cbr\u003e11.18.2 Practical concentrations \u003cbr\u003e11.18.3 Main functions performed by plasticizers \u003cbr\u003e11.18.4 Effect of plasticizers on polymer and other additives \u003cbr\u003e11.18.5 Typical formulations \u003cbr\u003e11.19 Perfluoropolymers \u003cbr\u003e11.20 Polyacrylonitrile \u003cbr\u003e11.20.1 Frequently used plasticizers \u003cbr\u003e11.20.2 Practical concentrations \u003cbr\u003e11.20.3 Main functions performed by plasticizers \u003cbr\u003e11.20.4 Effect of plasticizers on polymer and other additives \u003cbr\u003e11.21 Polyamide \u003cbr\u003e11.21.1 Frequently used plasticizers \u003cbr\u003e11.21.2 Practical concentrations \u003cbr\u003e11.21.3 Main functions performed by plasticizers \u003cbr\u003e11.21.4 Effect of plasticizers on polymer and other additives \u003cbr\u003e11.22 Polyamine \u003cbr\u003e11.23 Polyaniline \u003cbr\u003e11.24 Polybutadiene \u003cbr\u003e11.24.1 Frequently used plasticizers \u003cbr\u003e11.24.2 Practical concentrations \u003cbr\u003e11.24.3 Main functions performed by plasticizers \u003cbr\u003e11.25 Polybutylene \u003cbr\u003e11.25.1 Frequently used plasticizers \u003cbr\u003e11.25.2 Practical concentrations \u003cbr\u003e11.25.3 Main functions performed by plasticizers \u003cbr\u003e11.26 Poly(butyl methacrylate) \u003cbr\u003e11.26.1 Frequently used plasticizers \u003cbr\u003e11.26.2 Practical concentrations \u003cbr\u003e11.26.3 Main functions performed by plasticizers \u003cbr\u003e11.27 Polycarbonate \u003cbr\u003e11.27.1 Frequently used plasticizers \u003cbr\u003e11.27.2 Practical concentrations \u003cbr\u003e11.27.3 Main functions performed by plasticizers \u003cbr\u003e11.27.4 Effect of plasticizers on polymer and other additives \u003cbr\u003e11.28 Polyester \u003cbr\u003e11.28.1 Frequently used plasticizers \u003cbr\u003e11.28.2 Practical concentrations \u003cbr\u003e11.28.3 Main functions performed by plasticizers \u003cbr\u003e11.28.4 Effect of plasticizers on polymer and other additives \u003cbr\u003e11.28.5 Typical formulations \u003cbr\u003e11.29 Polyetherimide \u003cbr\u003e11.30 Polyethylacrylate \u003cbr\u003e11.31 Polyethylene \u003cbr\u003e11.31.1 Frequently used plasticizers \u003cbr\u003e11.31.2 Practical concentrations \u003cbr\u003e11.31.3 Main functions performed by plasticizers \u003cbr\u003e11.31.4 Mechanism of plasticizer action \u003cbr\u003e11.31.5 Typical formulations \u003cbr\u003e11.32 Poly(ethylene oxide) \u003cbr\u003e11.32.1 Frequently used plasticizers \u003cbr\u003e11.32.2 Practical concentrations \u003cbr\u003e11.32.3 Main functions performed by plasticizers \u003cbr\u003e11.32.4 Effect of plasticizers on polymer and other additives \u003cbr\u003e11.33 Poly(3-hydroxybutyrate) \u003cbr\u003e11.33.1 Frequently used plasticizers \u003cbr\u003e11.33.2 Practical concentrations \u003cbr\u003e11.33.3 Main functions performed by plasticizers \u003cbr\u003e11.34 Polyisobutylene \u003cbr\u003e11.35 Polyisoprene \u003cbr\u003e11.35.1 Frequently used plasticizers \u003cbr\u003e11.35.2 Practical concentrations \u003cbr\u003e11.35.3 Main functions performed by plasticizers \u003cbr\u003e11.35.4 Typical formulations \u003cbr\u003e11.36 Polyimide \u003cbr\u003e11.36.1 Frequently used plasticizers \u003cbr\u003e11.36.2 Practical concentrations \u003cbr\u003e11.36.3 Main functions performed by plasticizers \u003cbr\u003e11.36.4 Effect of plasticizers on polymer and other additives \u003cbr\u003e11.37 Polylactide \u003cbr\u003e11.37.1 Frequently used plasticizers \u003cbr\u003e11.37.2 Practical concentrations \u003cbr\u003e11.37.3 Main functions performed by plasticizers \u003cbr\u003e11.37.4 Effect of plasticizers on polymer and other additives \u003cbr\u003e11.38 Polymethylmethacrylate \u003cbr\u003e11.38.1 Frequently used plasticizers \u003cbr\u003e11.38.2 Practical concentrations \u003cbr\u003e11.38.3 Main functions performed by plasticizers \u003cbr\u003e11.38.4 Mechanism of plasticizer action \u003cbr\u003e11.38.5 Typical formulations \u003cbr\u003e11.39 Polypropylene \u003cbr\u003e11.39.1 Frequently used plasticizers \u003cbr\u003e11.39.2 Practical concentrations \u003cbr\u003e11.39.3 Main functions performed by plasticizers \u003cbr\u003e11.39.4 Effect of plasticizers on polymer and other additives \u003cbr\u003e11.40 Poly(propylene carbonate) \u003cbr\u003e11.40.1 Frequently used plasticizers \u003cbr\u003e11.40.2 Practical concentrations \u003cbr\u003e11.40.3 Main functions performed by plasticizers \u003cbr\u003e11.40.4 Effect of plasticizers on polymer and other additives \u003cbr\u003e11.41 Poly(N-vinylcarbazole) \u003cbr\u003e11.42 Poly(N-vinylpyrrolidone) \u003cbr\u003e11.42.1 Frequently used plasticizers \u003cbr\u003e11.42.2 Practical concentrations \u003cbr\u003e11.42.3 Main functions performed by plasticizers \u003cbr\u003e11.42.4 Mechanism of plasticizer action \u003cbr\u003e11.42.5 Typical formulations \u003cbr\u003e11.43 Poly(phenylene ether) \u003cbr\u003e11.43.1 Frequently used plasticizers \u003cbr\u003e11.43.2 Practical concentrations \u003cbr\u003e11.43.3 Main functions performed by plasticizers \u003cbr\u003e11.44 Poly(phenylene sulfide) \u003cbr\u003e11.45 Polystyrene \u003cbr\u003e11.45.1 Frequently used plasticizers \u003cbr\u003e11.45.2 Practical concentrations \u003cbr\u003e11.45.3 Main functions performed by plasticizers \u003cbr\u003e11.46 Polysulfide \u003cbr\u003e11.46.1 Frequently used plasticizers \u003cbr\u003e11.46.2 Practical concentrations \u003cbr\u003e11.46.3 Main functions performed by plasticizers \u003cbr\u003e11.47 Polysulfone \u003cbr\u003e11.48 Polyurethanes \u003cbr\u003e11.48.1 Frequently used plasticizers \u003cbr\u003e11.48.2 Practical concentrations \u003cbr\u003e11.48.3 Main functions performed by plasticizers \u003cbr\u003e11.48.4 Mechanism of plasticizers action \u003cbr\u003e11.48.5 Effect of plasticizers on polymers and other additives \u003cbr\u003e11.48.6 Typical formulations \u003cbr\u003e11.49 Polyvinylacetate \u003cbr\u003e11.49.1 Frequently used plasticizers \u003cbr\u003e11.49.2 Practical concentrations \u003cbr\u003e11.49.3 Main functions performed by plasticizers \u003cbr\u003e11.49.4 Effect of plasticizers on polymer and other additives \u003cbr\u003e11.50 Polyvinylalcohol \u003cbr\u003e11.50.1 Frequently used plasticizers \u003cbr\u003e11.50.2 Practical concentrations \u003cbr\u003e11.50.3 Main functions performed by plasticizers \u003cbr\u003e11.50.4 Mechanism of plasticizer action \u003cbr\u003e11.50.5 Effect of plasticizers on polymer and other additives \u003cbr\u003e11.50.6 Typical formulations \u003cbr\u003e11.51 Polyvinylbutyral \u003cbr\u003e11.51.1 Frequently used plasticizers \u003cbr\u003e11.51.2 Practical concentrations \u003cbr\u003e11.51.3 Main functions performed by plasticizers \u003cbr\u003e11.51.4 Effect of plasticizers on polymer and other additives \u003cbr\u003e11.52 Polyvinylchloride \u003cbr\u003e11.52.1 Frequently used plasticizers \u003cbr\u003e11.52.2 Practical concentrations \u003cbr\u003e11.52.3 Main functions performed by plasticizers \u003cbr\u003e11.52.4 Mechanism of plasticizer action \u003cbr\u003e11.52.5 Effect of plasticizers on polymer and other additives \u003cbr\u003e11.52.6 Typical formulations \u003cbr\u003e11.53 Polyvinylfluoride \u003cbr\u003e11.54 Polyvinylidenefluoride \u003cbr\u003e11.54.1 Frequently used plasticizers \u003cbr\u003e11.54.2 Practical concentrations \u003cbr\u003e11.54.3 Main functions performed by plasticizers \u003cbr\u003e11.54.4 Effect of plasticizers on polymer and other additives \u003cbr\u003e11.55 Polyvinylidenechloride \u003cbr\u003e11.56 Proteins \u003cbr\u003e11.56.1 Frequently used plasticizers \u003cbr\u003e11.56.2 Practical concentrations \u003cbr\u003e11.56.3 Main functions performed by plasticizers \u003cbr\u003e11.56.4 Mechanism of plasticizer action \u003cbr\u003e11.56.5 Effect of plasticizers on polymer and other additives \u003cbr\u003e11.57 Rubber, natural \u003cbr\u003e11.57.1 Frequently used plasticizers \u003cbr\u003e11.57.2 Practical concentrations \u003cbr\u003e11.57.3 Main functions performed by plasticizers \u003cbr\u003e11.57.4 Effect of plasticizers on polymer and other additives \u003cbr\u003e11.57.5 Typical formulations \u003cbr\u003e11.58 Silicone \u003cbr\u003e11.58.1 Frequently used plasticizers \u003cbr\u003e11.58.2 Practical concentrations \u003cbr\u003e11.58.3 Main functions performed by plasticizers \u003cbr\u003e11.58.4 Effect of plasticizers on polymer and other additives \u003cbr\u003e11.58.5 Typical formulations \u003cbr\u003e11.59 Styrene-butadiene rubber \u003cbr\u003e11.59.1 Frequently used plasticizers \u003cbr\u003e11.59.2 Practical concentrations \u003cbr\u003e11.59.3 Effect of plasticizers on polymer and other additives \u003cbr\u003e11.59.4 Typical formulations \u003cbr\u003e11.60 Styrene-butadiene-styrene rubber \u003cbr\u003e11.60.1 Frequently used plasticizers \u003cbr\u003e11.60.2 Practical concentrations \u003cbr\u003e11.60.3 Main functions performed by plasticizers \u003cbr\u003e11.60.4 Effect of plasticizer on polymer and other additives \u003cbr\u003e11.61 Starch \u003cbr\u003e11.61.1 Frequently used plasticizers \u003cbr\u003e11.61.2 Practical concentrations \u003cbr\u003e11.61.3 Main functions performed by plasticizers \u003cbr\u003e11.61.4 Effect of plasticizers on polymer and other additives \u003cbr\u003e11.61.5 Typical formulations\u003cbr\u003e \u003cbr\u003e\u003cstrong\u003e12 PLASTICIZERS IN POLYMER BLENDS\u003c\/strong\u003e \u003cbr\u003e George Wypych\u003cbr\u003e12.1 Plasticizer partition between component polymers \u003cbr\u003e12.2 Interaction of plasticizers with blend components \u003cbr\u003e12.3 Effect of plasticizers on blend properties \u003cbr\u003e12.4 Blending to reduce or to replace plasticizers \u003cbr\u003e\u003cbr\u003e\u003cbr\u003e\u003cstrong\u003e13 PLASTICIZERS IN VARIOUS INDUSTRIAL PRODUCTS\u003c\/strong\u003e \u003cbr\u003e George Wypych\u003cbr\u003e13.1 Adhesives and sealants \u003cbr\u003e13.1.1 Plasticizer types \u003cbr\u003e13.1.2 Plasticizer concentration \u003cbr\u003e13.1.3 Reasons for plasticizer use \u003cbr\u003e13.1.4 Advantages and disadvantages of plasticizers use \u003cbr\u003e13.1.5 Effect of plasticizers on product properties \u003cbr\u003e13.1.6 Examples of formulations \u003cbr\u003e13.2 Aerospace \u003cbr\u003e13.3 Agriculture \u003cbr\u003e13.4 Automotive \u003cbr\u003e13.4.1 Plasticizer types \u003cbr\u003e13.4.2 Plasticizer concentration \u003cbr\u003e13.4.3 Reasons for plasticizer use \u003cbr\u003e13.4.4 Advantages and disadvantages of plasticizers use \u003cbr\u003e13.4.5 Effect of plasticizers on product properties \u003cbr\u003e13.5 Cementitious materials \u003cbr\u003e13.5.1 Plasticizer types \u003cbr\u003e13.5.2 Plasticizer concentration \u003cbr\u003e13.5.3 Reasons for plasticizer use \u003cbr\u003e13.5.4 Advantages and disadvantages of plasticizers use \u003cbr\u003e13.5.5 Effect of plasticizers on product properties \u003cbr\u003e13.5.6 Examples of formulations \u003cbr\u003e13.6 Coated fabrics \u003cbr\u003e13.6.1 Plasticizer types \u003cbr\u003e13.6.2 Plasticizer concentration \u003cbr\u003e13.6.3 Reasons for plasticizer use \u003cbr\u003e13.6.4 Advantages and disadvantages of plasticizers use \u003cbr\u003e13.6.5 Effect of plasticizers on product properties \u003cbr\u003e13.6.6 Examples of formulations \u003cbr\u003e13.7 Composites \u003cbr\u003e13.7.1 Plasticizer types \u003cbr\u003e13.7.2 Plasticizer concentrations \u003cbr\u003e13.7.3 Reasons for addition \u003cbr\u003e13.7.4 Effect of plasticizers on product properties \u003cbr\u003e13.8 Cosmetics \u003cbr\u003e13.8.1 Plasticizer types \u003cbr\u003e13.8.2 Plasticizer concentration \u003cbr\u003e13.8.3 Reasons for plasticizer use \u003cbr\u003e13.8.4 Advantages and disadvantages of plasticizers use \u003cbr\u003e13.8.5 Effect of plasticizers on product properties \u003cbr\u003e13.8.6 Examples of formulations \u003cbr\u003e13.9 Cultural heritage \u003cbr\u003e13.10 Dental materials \u003cbr\u003e13.10.1 Plasticizer types \u003cbr\u003e13.10.2 Plasticizer concentration \u003cbr\u003e13.10.3 Reasons for plasticizer use \u003cbr\u003e13.10.4 Advantages and disadvantages of plasticizers use \u003cbr\u003e13.11 Electrical and electronics \u003cbr\u003e13.11.1 Plasticizer types \u003cbr\u003e13.11.2 Plasticizer concentration \u003cbr\u003e13.11.3 Reasons for plasticizer use \u003cbr\u003e13.11.4 Advantages and disadvantages of plasticizers use \u003cbr\u003e13.11.5 Effect of plasticizers on product properties \u003cbr\u003e13.12 Fibers \u003cbr\u003e13.12.1 Plasticizer types \u003cbr\u003e13.12.2 Plasticizer concentration \u003cbr\u003e13.12.3 Reasons for plasticizer use \u003cbr\u003e13.12.4 Effect of plasticizers on product properties \u003cbr\u003e13.13 Film \u003cbr\u003e13.13.1 Plasticizer types \u003cbr\u003e13.13.2 Plasticizer concentration \u003cbr\u003e13.13.3 Reasons for plasticizer use \u003cbr\u003e13.13.4 Advantages and disadvantages of plasticizers use \u003cbr\u003e13.13.5 Effect of plasticizers on product properties \u003cbr\u003e13.14 Food \u003cbr\u003e13.14.1 Plasticizer types \u003cbr\u003e13.14.2 Plasticizer concentration \u003cbr\u003e13.14.3 Reasons for plasticizer use \u003cbr\u003e13.14.4 Advantages and disadvantages of plasticizers use \u003cbr\u003e13.14.5 Effect of plasticizers on product properties \u003cbr\u003e13.15 Flooring \u003cbr\u003e13.15.1 Plasticizer types \u003cbr\u003e13.15.2 Plasticizer concentration \u003cbr\u003e13.15.3 Reasons for plasticizer use \u003cbr\u003e13.15.4 Advantages and disadvantages of plasticizers use \u003cbr\u003e13.15.5 Effect of plasticizers on product properties \u003cbr\u003e13.15.6 Examples of formulations \u003cbr\u003e13.16 Foams \u003cbr\u003e13.16.1 Plasticizer types \u003cbr\u003e13.16.2 Plasticizer concentration \u003cbr\u003e13.16.3 Reasons for plasticizer use \u003cbr\u003e13.16.4 Advantages and disadvantages of plasticizers use \u003cbr\u003e13.16.5 Effect of plasticizers on product properties \u003cbr\u003e13.16.6 Examples of formulations \u003cbr\u003e13.17 Footwear \u003cbr\u003e13.17.1 Plasticizer types \u003cbr\u003e13.17.2 Plasticizer concentration \u003cbr\u003e13.17.3 Reasons for plasticizer use \u003cbr\u003e13.17.4 Advantages and disadvantages of plasticizers use \u003cbr\u003e13.17.5 Example of formulation \u003cbr\u003e13.18 Fuel cells \u003cbr\u003e13.18.1 Plasticizer types \u003cbr\u003e13.18.2 Plasticizer concentration \u003cbr\u003e13.18.3 Reasons for plasticizer use \u003cbr\u003e13.19 Gaskets \u003cbr\u003e13.19.1 Plasticizer types \u003cbr\u003e13.19.2 Plasticizer concentration \u003cbr\u003e13.19.3 Reasons for plasticizer use \u003cbr\u003e13.19.4 Advantages and disadvantages of plasticizers use \u003cbr\u003e13.19.5 Examples of formulations \u003cbr\u003e13.20 Household products \u003cbr\u003e13.21 Inks, varnishes, and lacquers \u003cbr\u003e13.21.1 Plasticizer types \u003cbr\u003e13.21.2 Plasticizer concentration \u003cbr\u003e13.21.3 Reasons for plasticizer use \u003cbr\u003e13.21.4 Advantages and disadvantages of plasticizers use \u003cbr\u003e13.21.5 Effect of plasticizers on product properties \u003cbr\u003e13.21.6 Examples of formulations \u003cbr\u003e13.22 Medical applications \u003cbr\u003e13.22.1 Plasticizer types \u003cbr\u003e13.22.2 Plasticizer concentration \u003cbr\u003e13.22.3 Reasons for plasticizer use \u003cbr\u003e13.22.4 Advantages and disadvantages of plasticizers use \u003cbr\u003e13.22.5 Effect of plasticizers on product properties \u003cbr\u003e13.22.6 Examples of formulations \u003cbr\u003e13.23 Membranes \u003cbr\u003e13.23.1 Plasticizer types \u003cbr\u003e13.23.2 Plasticizer concentration \u003cbr\u003e13.23.3 Reasons for plasticizer use \u003cbr\u003e13.23.4 Advantages and disadvantages of plasticizers use \u003cbr\u003e13.24 Microspheres \u003cbr\u003e13.24.1 Plasticizer types \u003cbr\u003e13.24.2 Plasticizer concentration \u003cbr\u003e13.24.3 Reasons for plasticizer use \u003cbr\u003e13.25 Paints and coatings \u003cbr\u003e13.25.1 Plasticizer types \u003cbr\u003e13.25.2 Plasticizer concentration \u003cbr\u003e13.25.3 Reasons for plasticizer use \u003cbr\u003e13.25.4 Advantages and disadvantages of plasticizers use \u003cbr\u003e13.25.5 Effect of plasticizers on product properties \u003cbr\u003e13.25.6 Examples of formulations \u003cbr\u003e13.26 Pharmaceutical products \u003cbr\u003e13.26.1 Plasticizer types \u003cbr\u003e13.26.2 Plasticizer concentration \u003cbr\u003e13.26.3 Reasons for plasticizer use \u003cbr\u003e13.26.4 Advantages and disadvantages of plasticizers use \u003cbr\u003e13.26.5 Effect of plasticizers on product properties \u003cbr\u003e13.26.6 Examples of formulations \u003cbr\u003e13.27 Photographic materials \u003cbr\u003e13.27.1 Plasticizer types \u003cbr\u003e13.27.2 Plasticizer concentration \u003cbr\u003e13.27.3 Reasons for plasticizer use \u003cbr\u003e13.27.4 Effect of plasticizers on product properties \u003cbr\u003e13.28 Pipes \u003cbr\u003e13.28.1 Plasticizer types \u003cbr\u003e13.28.2 Plasticizer concentration \u003cbr\u003e13.28.3 Reasons for plasticizer use \u003cbr\u003e13.28.4 Advantages and disadvantages of plasticizers use \u003cbr\u003e13.28.5 Effect of plasticizers on product properties \u003cbr\u003e13.28.6 Examples of formulations \u003cbr\u003e13.29 Roofing materials \u003cbr\u003e13.29.1 Plasticizer types \u003cbr\u003e13.29.2 Plasticizer concentration \u003cbr\u003e13.29.3 Reasons for plasticizer use \u003cbr\u003e13.29.4 Advantages and disadvantages of plasticizers use \u003cbr\u003e13.29.5 Effect of plasticizers on product properties \u003cbr\u003e13.29.6 Examples of formulations \u003cbr\u003e13.30 Tires \u003cbr\u003e13.30.1 Plasticizer types \u003cbr\u003e13.30.2 Plasticizer concentration \u003cbr\u003e13.30.3 Reasons for plasticizer use \u003cbr\u003e13.30.4 Advantages and disadvantages of plasticizers use \u003cbr\u003e13.30.5 Effect of plasticizers on product properties \u003cbr\u003e13.30.6 Examples of formulations \u003cbr\u003e13.31 Toys \u003cbr\u003e13.31.1 Plasticizer types \u003cbr\u003e13.31.2 Plasticizer concentration \u003cbr\u003e13.31.3 Reasons for plasticizer use \u003cbr\u003e13.31.4 Effect of plasticizers on product properties \u003cbr\u003e13.32 Tubing \u003cbr\u003e13.32.1 Plasticizer types \u003cbr\u003e13.32.2 Plasticizer concentration \u003cbr\u003e13.32.3 Reasons for plasticizer use \u003cbr\u003e13.32.4 Advantages and disadvantages of plasticizers use \u003cbr\u003e13.32.5 Effect of plasticizers on product properties \u003cbr\u003e13.32.6 Examples of formulations \u003cbr\u003e13.33 Wire and cable \u003cbr\u003e13.33.1 Plasticizer types \u003cbr\u003e13.33.2 Plasticizer concentration \u003cbr\u003e13.33.3 Reasons for plasticizer use \u003cbr\u003e13.33.4 Advantages and disadvantages of plasticizers use \u003cbr\u003e13.33.5 Effect of plasticizers on product properties \u003cbr\u003e13.33.6 Examples of formulations \u003cbr\u003e\u003cbr\u003e\u003cstrong\u003e14 PLASTICIZERS IN VARIOUS PROCESSING METHODS\u003c\/strong\u003e \u003cbr\u003e George Wypych\u003cbr\u003e14.1 Blow molding \u003cbr\u003e14.2 Calendering \u003cbr\u003e14.3 Coil coating \u003cbr\u003e14.4 Compression molding \u003cbr\u003e14.5 Compounding (mixing) \u003cbr\u003e14.6 Dip coating \u003cbr\u003e14.7 Dry blending \u003cbr\u003e14.8 Extrusion \u003cbr\u003e14.9 Injection molding \u003cbr\u003e14.10 Polymer synthesis \u003cbr\u003e14.11 Rotational molding \u003cbr\u003e14.12 Rubber processing \u003cbr\u003e14.13 Thermoforming \u003cbr\u003e14.14 Web coating \u003cbr\u003e14.15 Wire coating \u003cbr\u003e\u003cbr\u003e\u003cstrong\u003e15 SPECIALIZED ANALYTICAL METHODS IN PLASTICIZER TESTING\u003c\/strong\u003e \u003cbr\u003e George Wypych\u003cbr\u003e15.1 Plasticizer identification \u003cbr\u003e15.2 Methods of determination of plasticizer concentration \u003cbr\u003e15.3 Determination of volatility, molecular motion, diffusion, and migration \u003cbr\u003e15.4 Methods of study of plasticized materials \u003cbr\u003e\u003cbr\u003e\u003cstrong\u003e16 MATHEMATICAL MODELING IN APPLICATION TO PLASTICIZERS\u003c\/strong\u003e \u003cbr\u003e George Wypych\u003cbr\u003e16.1 PVC-plasticizer interaction model \u003cbr\u003e16.2 Gas permeation \u003cbr\u003e16.3 Migration \u003cbr\u003e16.4 Dry-blending time \u003cbr\u003e16.5 Gelation and fusion \u003cbr\u003e16.6 Thermal decomposition \u003cbr\u003e16.7 Potential health risk of exposure to DEHP from glove \u003cbr\u003e\u003cbr\u003e\u003cstrong\u003e17 HEALTH AND SAFETY ISSUES WITH PLASTICIZERS AND PLASTICIZED\u003c\/strong\u003e\u003cbr\u003e\u003cstrong\u003e MATERIALS\u003c\/strong\u003e \u003cbr\u003e17.1 Adjuvant effect of plasticizers \u003cbr\u003e Søren Thor Larsen \u003cbr\u003e17.1.1 Introduction \u003cbr\u003e17.1.2 Airway allergy \u003cbr\u003e17.1.3 Adjuvant effect \u003cbr\u003e17.1.4 Adjuvant effect of phthalate plasticizers \u003cbr\u003e 17.1.4.1 Epidemiological studies \u003cbr\u003e17.1.4.2 In vivo (animal) studies \u003cbr\u003e17.1.5 Conclusions \u003cbr\u003e17.2 The rodent hepatocarcinogenic response to phthalate plasticizers\u003cbr\u003e : basic biology and human extrapolation \u003cbr\u003e Abigail L Walker and Ruth A Roberts\u003cbr\u003e17.2.1 Introduction \u003cbr\u003e17.2.2 Gene expression and cancer toxicology \u003cbr\u003e17.2.2.1 Gene expression \u003cbr\u003e17.2.2.2 Cancer biology: some basic considerations \u003cbr\u003e17.2.2.3 Developing areas of interest in hepatocarcinogenesis \u003cbr\u003e17.2.2.4 Chemical carcinogenesis \u003cbr\u003e17.2.3 Peroxisome proliferators and rodent nongenotoxic\u003cbr\u003e hepatocarcinogenesis \u003cbr\u003e17.2.3.1 The peroxisome proliferators \u003cbr\u003e17.2.3.2 PPAR \u003cbr\u003e17.2.4 Species differences in response to peroxisome proliferators \u003cbr\u003e17.2.5 Chemical regulation \u003cbr\u003e17.2.5.1 Challenges in alternative models \u003cbr\u003e17.2.6 Summary \u003cbr\u003e17.3 The influence of maternal nutrition on phthalate teratogenicity \u003cbr\u003e Janet Y. Uriu-Adams1 and Carl L. Keen\u003cbr\u003e17.3.1 Introduction \u003cbr\u003e17.3.2 Reproductive toxicity of BBP and DEHP \u003cbr\u003e17.3.3 Acute phase response-induced alterations in maternal \u003cbr\u003e17.3.4 Concluding comments \u003cbr\u003e17.3.5 Recent findings \u003cbr\u003e17.3.6 Acknowledgments \u003cbr\u003e17.4 Public health implications of phthalates: A review of U.S. actions\u003cbr\u003e to protect those most vulnerable \u003cbr\u003e Stephanie R. Miles-Richardson and Dhara Richardson\u003cbr\u003e17.4.1 Introduction \u003cbr\u003e17.4.2 Implications of the COVID-19 pandemic on phthalate exposure \u003cbr\u003e17.4.3 The U.S. response to phthalate exposure \u003cbr\u003e17.4.3 Some U.S. State-level actions \u003cbr\u003e17.4.4 2008 Consumer Product Safety Improvement Act \u003cbr\u003e17.4.5 Food and Drug Administration (FDA) petition, lawsuit, and final ruling \u003cbr\u003e17.4.6 Preventing Harmful Exposure to Phthalates Act 117th Congress\u003cbr\u003e (2021-2022) \u003cbr\u003e17.4.7 Other U.S. Federal Agencies \u003cbr\u003e17.4.8 Conclusion \u003cbr\u003e17.5 Plasticizers in the indoor environment \u003cbr\u003e Werner Butte\u003cbr\u003e17.5.1 Introduction \u003cbr\u003e17.5.2 Sources of indoor plasticizers \u003cbr\u003e17.5.3 Occurrence of plasticizers indoors \u003cbr\u003e17.5.3.1 Indoor air \u003cbr\u003e17.5.3.2 House dust \u003cbr\u003e17.5.4 Impact of plasticizers in the indoor environment \u003cbr\u003e17.5.4.1 Indoor plasticizers and health \u003cbr\u003e17.5.4.2 Human exposure assessment for plasticizers in the indoor\u003cbr\u003e environment \u003cbr\u003e17.5.4.3 Reference and guideline values of plasticizers to assess indoor\u003cbr\u003e quality \u003cbr\u003e17.5.5 Summary \u003cbr\u003e\u003cbr\u003e\u003cstrong\u003e18 THE ENVIRONMENTAL FATE OF PLASTICIZERS\u003c\/strong\u003e \u003cbr\u003e William R. Roy\u003cbr\u003e18.1 Introduction \u003cbr\u003e18.1.1 Releases to the environment \u003cbr\u003e18.1.2 Levels in the environment \u003cbr\u003e18.2 Plasticizers in water \u003cbr\u003e18.2.1 Solubility \u003cbr\u003e18.2.2 Volatilization from water. \u003cbr\u003e18.2.3 Abiotic degradation in water \u003cbr\u003e18.2.4 Biodegradation in water \u003cbr\u003e18.2.5 Adsorption from water \u003cbr\u003e18.3 Soil and sediment \u003cbr\u003e18.3.1 Volatilization \u003cbr\u003e18.3.2 Biodegradation in soil \u003cbr\u003e18.4 Organisms \u003cbr\u003e18.5 Air \u003cbr\u003e Summary and concluding remarks \u003cbr\u003e\u003cbr\u003e\u003cstrong\u003e19 REGULATIONS AND DATA\u003c\/strong\u003e \u003cbr\u003e George Wypych\u003cbr\u003e19.1 Toxic substance control \u003cbr\u003e19.2. Carcinogenic effect \u003cbr\u003e19.3 Teratogenic and mutagenic effect \u003cbr\u003e19.4 Workplace exposure limits \u003cbr\u003e19.5 Exposure from consumer products \u003cbr\u003e19.6 Plasticizers in drinking water \u003cbr\u003e19.7 Food regulatory acts \u003cbr\u003e19.8 Medical and other applications \u003cbr\u003e\u003cbr\u003e\u003cbr\u003e\u003cstrong\u003e20 PERSONAL PROTECTION\u003c\/strong\u003e \u003cbr\u003e George Wypych\u003cbr\u003e20.1 Clothing \u003cbr\u003e20.2 Gloves \u003cbr\u003e20.3 Eye protection \u003cbr\u003e20.4 Respiratory protection \u003cbr\u003e\u003cbr\u003e\u003cstrong\u003e21 PLASTICIZER RECOVERY \u0026amp; RECYCLING\u003c\/strong\u003e \u003cbr\u003e George Wypych\u003cbr\u003e\u003cbr\u003e \u003cstrong\u003eINDEX\u003c\/strong\u003e\u003cbr\u003e\u003c\/p\u003e\n\u003cp\u003e \u003c\/p\u003e\n\u003ch5\u003eAbout Author\u003c\/h5\u003e\nGeorge Wypych has PhD Eng. The professional expertise includes university teaching (full professor) and research \u0026amp; development (university and corporate). He has published 48 books (PVC Plastisols, Wroclaw University Press; Polyvinylchloride Degradation, Elsevier; Polyvinylchloride Stabilization, Elsevier; Polymer Modified Textile Materials, Wiley \u0026amp; Sons; Handbook of Material Weathering, 1st, 2nd, 3rd, 4th, 5th, 6th Edition, ChemTec Publishing; Handbook of Fillers, 1st, 2nd, 3rd, 4th, and 5th Edition, ChemTec Publishing; Recycling of PVC, ChemTec Publishing; Weathering of Plastics. Testing to Mirror Real Life Performance, Plastics Design Library, Handbook of Solvents, Vol. 1. Properties 1st, 2nd, and 3rd Edition, ChemTec Publishing, Handbook of Solvents, Vol. 2. Health \u0026amp; Environment 1st, 2nd, and 3rd Edition, ChemTec Publishing, Handbook of Plasticizers, 1st, 2nd, 3rd, 4th Edition, ChemTec Publishing, Handbook of Antistatics, 1st and 2nd Edition, ChemTec Publishing, Databook of Antistatics, 1st and 2nd Edition, ChemTec Publishing, Handbook of Antiblocking, Release and Slip Additives, 1st , 2nd and 3rd Edition, ChemTec Publishing, Industrial Solvents in Kirk-Othmer Encyclopedia of Chemical Technology (two editions), John Wiley \u0026amp; Sons, PVC Degradation \u0026amp; Stabilization, 1st, 2nd, 3rd, and 4th Editions, ChemTec Publishing, The PVC Formulary, 1st, 2nd, and 3rd Editions, ChemTec Publishing, Handbook of Material Biodegradation, Biodeterioration, and Biostabilization, 1st and 2nd Editions, ChemTec Publishing, Handbook of UV Degradation and Stabilization, 1st, 2nd, and 3rd Editions, ChemTec Publishing, Handbook of Polymers, 1st, 2nd, and 3rd Editions, ChemTec Publishing, Atlas of Material Damage, 1st, 2nd, and 3rd Editions, ChemTec Publishing, Handbook of Odors in Plastic Materials, 1st, 2nd, and 3rd Editions, ChemTec Publishing, Databook of Solvents (two editions), ChemTec Publishing, Databook of Blowing and Auxiliary Agents, ChemTec Publishing, Handbook of Foaming and Blowing Agents (two editions), ChemTec Publishing, Databook of Green Solvents, ChemTec Publishing (two editions), Self-healing Products (two editions), ChemTec Publishing, Handbook of Adhesion Promoters (two editions), ChemTec Publishing, Databook of Surface Modification Additives (two editions), ChemTec Publishing, Handbook of Surface Improvement and Modification (two editions), ChemTec Publishing, Graphene – Important Results and Applications, ChemTec Publishing, Handbook of Curatives and Crosslinkers, ChemTec Publishing, Chain Mobility and Progress in Medicine, Pharmaceutical, Polymer Science and Technology, Impact of Award, ChemTec Publishing, Databook of Antioxidants, ChemTec Publishing, Handbook of Antioxidants, ChemTec Publishing, Databook of UV Stabilizers (two Editions), ChemTec Publishing, Databook of Flame Retardants, ChemTec Publishing, Databook of Nucleating Agents, ChemTec Publishing, Handbook of Flame Retardants, ChemTec Publishing, Handbook of Nucleating Agents, ChemTec Publishing, Handbook of Polymers in Electronics, ChemTec Publishing, Databook of Impact Modifiers, ChemTec Publishing, Databook of Rheological Additives, ChemTec Publishing, Handbook of Impact Modifiers, ChemTec Publishing, Handbook of Rheological Additives, ChemTec Publishing, Databook of Polymer Processing Additives, ChemTec Publishing, Handbook of Polymer Processing Additives, ChemTec Publishing, Functional Fillers (two editions), 2 databases (Solvents Database, 1st, 2nd, 3rd Edition and Database of Antistatics 1st and 2nd Edition, both by ChemTec Publishing), and 42 scientific papers and obtained 16 patents. He specializes in PVC, polymer additives, material durability, and the development of sealants and coatings. He was included in the Dictionary of International Biography, Who's Who in Plastics and Polymers, and Who's Who in Engineering, and was selected International Man of the Year 1996-1997 in recognition of services to education.","published_at":"2023-02-24T14:06:20-05:00","created_at":"2023-02-24T13:56:07-05:00","vendor":"Chemtec Publishing","type":"Book","tags":["abiotic","adipates","adsorption","alkyl sulfonates","azelates","benzoates","biodegradation","book","chlorinated paraffins","citrates","coated fabrics","cosmetics","database","degradation","dental materials","electrical","electronics","energetic plasticizers","environment","epoxides","eye protection","fibers","film","flooring","foams","food","footwear","gaskets","gloves","inks","medical applications","membranes","p-additives","paints","pharmaceutical products","plasticisers","plasticizers additives","polymer","releases","solubility","varnishes","volatilization","water"],"price":39000,"price_min":39000,"price_max":39000,"available":true,"price_varies":false,"compare_at_price":null,"compare_at_price_min":0,"compare_at_price_max":0,"compare_at_price_varies":false,"variants":[{"id":43393978663069,"title":"Default Title","option1":"Default Title","option2":null,"option3":null,"sku":"","requires_shipping":true,"taxable":true,"featured_image":null,"available":true,"name":"Handbook of Plasticizers, 4th Edition","public_title":null,"options":["Default Title"],"price":39000,"weight":1000,"compare_at_price":null,"inventory_quantity":0,"inventory_management":null,"inventory_policy":"deny","barcode":"978-1-77467-022-4","requires_selling_plan":false,"selling_plan_allocations":[]}],"images":["\/\/chemtec.org\/cdn\/shop\/products\/9781774670224-Case.png?v=1677265546"],"featured_image":"\/\/chemtec.org\/cdn\/shop\/products\/9781774670224-Case.png?v=1677265546","options":["Title"],"media":[{"alt":null,"id":27340016779421,"position":1,"preview_image":{"aspect_ratio":0.658,"height":450,"width":296,"src":"\/\/chemtec.org\/cdn\/shop\/products\/9781774670224-Case.png?v=1677265546"},"aspect_ratio":0.658,"height":450,"media_type":"image","src":"\/\/chemtec.org\/cdn\/shop\/products\/9781774670224-Case.png?v=1677265546","width":296}],"requires_selling_plan":false,"selling_plan_groups":[],"content":"\u003ch5\u003eDescription\u003c\/h5\u003e\n\u003cp\u003eEditor: George Wypych \u003cbr\u003eISBN 978-1- 77467-022-4 (hard copy)\u003cbr\u003e\u003cbr\u003ePublished: Jan. 2023 \u003cbr data-mce-fragment=\"1\"\u003ePages 894+xxii\u003cbr data-mce-fragment=\"1\"\u003eTables 115, Figures 360\u003cbr data-mce-fragment=\"1\"\u003e\u003cbr\u003e\u003c\/p\u003e\n\u003cp\u003e \u003c\/p\u003e\n\u003ch5\u003eSummary\u003c\/h5\u003e\n\u003cp\u003eHandbook of Plasticizers brings together in one place all that is known about this vital and rapidly expanding field. The book serves both as a basic reference source for researchers, engineers, and others involved in plastics processing, research and development as well as a source of ideas regarding future developments.\u003cbr\u003e\u003cbr\u003eThis book contains a comprehensive review of information available in the open literature, such as published scientific papers, information from plasticizer manufacturers, and patent literature. The information from the most recent sources was used to update information from previous editions. \u003cbr\u003eThe information available today permits the use of plasticizers more effectively and helps to avoid certain plasticizers in applications where they may cause health or material durability problems. The source of raw materials used to produce plasticizers is becoming one of the issues in their selection. The book contains information on plasticizers obtained from renewable resources. Plasticizer incorporation demands a broad background of information because plasticizers are now added to complex mixtures containing a variety of materials that may have different reactions to the presence of plasticizers. Plasticizer choice is also not simple because there is a large selection of commercial plasticizers and various environmental issues dictating preferred solutions.\u003cbr\u003e\u003cbr\u003eBoth aspects considered indicate the need for a comprehensive source which, using currently available means of the computerized database, should provide data and a broad background of theoretical information in a condensed form easy to search. \u003cbr\u003e\u003cbr\u003eNumerical data on the most important plasticizers are provided in the tabular form of the printed book entitled Databook of Plasticizers. \u003cbr\u003eTwenty-one chapters are included in the Handbook of Plasticizers. The full Table of Contents is given below. Only some chapters are discussed here to add more information that may not be obvious from the table of contents.\u003cbr\u003e\u003cbr\u003eData are available for a large number of commercial plasticizers. This data is used in Chapter 2 to specify typical properties of plasticizers that belong to one of the thirty-one groups. The ranges of expected properties for a given group are also given.\u003cbr\u003e\u003cbr\u003eChapters 5, 6, and 7 contain new and historical approaches, which explain the mechanisms of plasticizers' action and their behavior in plasticized systems. This theoretical background helps to understand practical observations and provides guidance to the methods of material improvement. Chapter 9 shows plasticization steps and results of various analytical studies, which help in understanding these steps and the parameters which may control them.\u003cbr\u003e\u003cbr\u003eTwenty-nine sections of Chapter 10 discuss plasticizers' effect on the physical and mechanical properties of plasticized materials. These sections are essential for understanding the behavior of materials and the principles of their formulation. \u003cbr\u003e\u003cbr\u003e\u003cbr\u003e\u003cbr\u003e\u003cbr\u003eChapter 11 contains data on the use of plasticizers in 61 groups of polymers. The information is grouped under the following sections – Frequently used plasticizers, Practical concentrations, Main functions performed by plasticizers, Mechanism of plasticizer action, Effect of plasticizers on polymer and other additives, and Typical formulations. The use of such a consistent method of data presentation helps to find information quickly and to compare data from various sources and applications. \u003cbr\u003e\u003cbr\u003eSimilarly, Chapter 13 discusses the use of plasticizers in 33 groups of products according to a similar breakdown, including Plasticizer types, Plasticizer concentration, Reasons for plasticizer use, Advantages and disadvantages of plasticizer use, Effect of plasticizers on product properties, and Examples of formulations. Both chapters make use of a large number of patents and information in open literature discussing the most current findings and trends.\u003cbr\u003e\u003cbr\u003eIn Chapter 14, attempts are being made to discuss the following topics: The effect of plasticizers on process conditions, Processing defects formation and elimination with the use of plasticizers, In the fluence of rheological changes on the process, Equipment maintenance, and energy consumption. This chapter discusses 15 methods of polymer and rubber processing.\u003cbr\u003eSeveral chapters which follow discuss various aspects of plasticizer's effect on health, safety, and the environment. Chapter 17 contains opinions of renowned experts on various aspects of plasticizers' effect on health and safety. Chapter 18 contains information on plasticizers' persistence in soil and water. Plasticizers releases and their presence in the environment are discussed for many important commercial plasticizers.\u003cbr\u003e\u003cbr\u003eThis short review and the Table of Contents show that this book is the most comprehensive source of current information on plasticizers. Plasticizers are used in so many products that every library should have this reference source of information on plasticizers readily available for its readers, especially considering that so many aspects of application plasticizers have recently changed that older books cannot provide the right answers. This book is best used in conjunction with the Plasticizer Database and\/or Databook of Plasticizers which give information on the present status and properties of industrial and research plasticizers.\u003cbr\u003e\u003c\/p\u003e\n\u003cbr\u003e \u003cbr\u003e\u003cbr\u003e\n\u003ch5\u003eTable of Contents\u003c\/h5\u003e\n\u003cp\u003e\u003cstrong\u003e1 INTRODUCTION\u003c\/strong\u003e \u003cbr\u003e George Wypych\u003cbr\u003e1.1 Historical developments \u003cbr\u003e1.2 Expectations from plasticizers \u003cbr\u003e1.3 Definitions \u003cbr\u003e1.4 Classification \u003cbr\u003e\u003cbr\u003e\u003cstrong\u003e2 PLASTICIZER TYPES\u003c\/strong\u003e \u003cbr\u003e George Wypych\u003cbr\u003e2.1 Introduction \u003cbr\u003e2.2 Characteristic properties of industrial plasticizers \u003cbr\u003e2.2.1 Abietates \u003cbr\u003e2.2.2 Adipates \u003cbr\u003e2.2.3 Alkyl sulfonates \u003cbr\u003e2.2.4 Amides and amines \u003cbr\u003e2.2.5 Azelates \u003cbr\u003e2.2.6 Benzoates \u003cbr\u003e2.2.7 Bioplasticizers \u003cbr\u003e2.2.8 Biodegradable plasticizers \u003cbr\u003e2.2.9 Chlorinated paraffins, \u003cbr\u003e2.2.10 Citrates \u003cbr\u003e2.2.11 Cyclohexane dicarboxylic acid, diisononyl ester \u003cbr\u003e2.2.12 Energetic plasticizers \u003cbr\u003e2.2.13 Epoxides \u003cbr\u003e2.2.14 Esters of C10-30 dicarboxylic acids \u003cbr\u003e2.2.15 Ether-ester plasticizers \u003cbr\u003e2.2.16 Glutarates \u003cbr\u003e2.2.17 Hydrocarbon oils \u003cbr\u003e2.2.18 Hydrocarbon resins \u003cbr\u003e2.2.19 Isobutyrates \u003cbr\u003e2.2.20 Maleates \u003cbr\u003e2.2.21 Oleates \u003cbr\u003e2.2.22 Pentaerythritol derivatives \u003cbr\u003e2.2.23 Phosphates \u003cbr\u003e2.2.24 Phthalate-free plasticizers \u003cbr\u003e2.2.25 Phthalates \u003cbr\u003e2.2.26 Polymeric plasticizers \u003cbr\u003e2.2.26.1 Esters \u003cbr\u003e2.2.26.2 Polybutenes \u003cbr\u003e2.26.3 Others \u003cbr\u003e2.2.27 Ricinoleates \u003cbr\u003e2.2.28 Sebacates \u003cbr\u003e2.2.29 Succinates \u003cbr\u003e2.2.30 Sulfonamides \u003cbr\u003e2.2.31 Superplasticizers and plasticizers for concrete \u003cbr\u003e2.2.32 Tri- and pyromellitates \u003cbr\u003e2.3 Methods of synthesis and their effect on properties of plasticizers \u003cbr\u003e2.4 Reactive plasticizers and internal plasticization \u003cbr\u003e\u003cbr\u003e\u003cstrong\u003e3 TYPICAL METHODS OF QUALITY CONTROL OF PLASTICIZERS\u003c\/strong\u003e \u003cbr\u003e George Wypych\u003cbr\u003e3.1 Abbreviations, terminology, and vocabulary \u003cbr\u003e3.2 Acid number \u003cbr\u003e3.3 Aging studies \u003cbr\u003e3.4 Ash \u003cbr\u003e3.5 Brittleness temperature \u003cbr\u003e3.6 Brookfield viscosity \u003cbr\u003e3.7 Chemical resistance \u003cbr\u003e3.8 Color \u003cbr\u003e3.9 Compatibility \u003cbr\u003e3.10 Compression set \u003cbr\u003e3.11 Concrete additives \u003cbr\u003e3.12 Electrical properties \u003cbr\u003e3.13 Extractable matter \u003cbr\u003e3.14 Flash and fire point \u003cbr\u003e3.15 Fogging \u003cbr\u003e3.16 Fusion \u003cbr\u003e3.17 Gas chromatography \u003cbr\u003e3.18 Hardness \u003cbr\u003e3.19 Infrared analysis of plasticizers \u003cbr\u003e3.20 Kinematic viscosity \u003cbr\u003e3.21 Marking (classification) \u003cbr\u003e3.22 Melt rheology \u003cbr\u003e3.23 Migration \u003cbr\u003e3.24 Polyvinylchloride  standard specification \u003cbr\u003e3.25 Powder-mix time \u003cbr\u003e3.26 Purity \u003cbr\u003e3.27 Refractive index \u003cbr\u003e3.28 Residual contamination \u003cbr\u003e3.29 Sampling \u003cbr\u003e3.30 Saponification value \u003cbr\u003e3.31 Saybolt viscosity \u003cbr\u003e3.32 Sorption of plasticizer \u003cbr\u003e3.33 Specific gravity \u003cbr\u003e3.34 Specification \u003cbr\u003e3.35 Staining \u003cbr\u003e3.36 Stiffness \u003cbr\u003e3.37 Tensile properties \u003cbr\u003e3.38 Thermal expansion coefficient \u003cbr\u003e3.39 Unsaponifiable contents \u003cbr\u003e3.40 Viscosity of plastisols and organosols \u003cbr\u003e3.41 Water concentration \u003cbr\u003e3.42 Weight loss \u003cbr\u003e\u003cbr\u003e\u003cstrong\u003e4 TRANSPORTATION AND STORAGE\u003c\/strong\u003e \u003cbr\u003e George Wypych\u003cbr\u003e4.1 Transportation \u003cbr\u003e4.2 Storage \u003cbr\u003e\u003cbr\u003e\u003cstrong\u003e5 MECHANISMS OF PLASTICIZERS ACTION\u003c\/strong\u003e \u003cbr\u003e A. Marcilla and M. Beltrán\u003cbr\u003e5.1 Classical theories \u003cbr\u003e5.1.1 The lubricity theory \u003cbr\u003e5.1.2 The gel theory \u003cbr\u003e5.1.3 Moorshead's empirical approach \u003cbr\u003e5.2 The free volume theory \u003cbr\u003e5.2.1 Mathematical models \u003cbr\u003e\u003cbr\u003e\u003cstrong\u003e6 COMPATIBILITY OF PLASTICIZERS 159\u003c\/strong\u003e\u003cbr\u003e George Wypych\u003cbr\u003e6.1 Prediction methods of plasticizer compatibility \u003cbr\u003e6.1.1 Flory-Huggins interaction parameter \u003cbr\u003e6.1.2 Prediction of Gibbs free energy of mixing UNIFAC-FV \u003cbr\u003e6.1.3 Molar volume \u003cbr\u003e6.1.4 Polarity \u003cbr\u003e6.1.5 Hansen solubility parameters \u003cbr\u003e6.1.6 Hoy solubility parameters and other methods based on solubility\u003cbr\u003e parameters \u003cbr\u003e6.1.7 Hildebrand solubility parameter \u003cbr\u003e6.1.8 Molecule charge density using COSMO \u003cbr\u003e6.1.9 Mesoscale simulation using DPD \u003cbr\u003e6.1.10 Ap\/Po ratio \u003cbr\u003e6.2 Validation methods \u003cbr\u003e6.2.1 DSC analysis \u003cbr\u003e6.2.2 Inverse gas chromatography \u003cbr\u003e6.2.3 Solid-gel transition temperature \u003cbr\u003e6.3 Effect of plasticizer structure and conditions of incorporation on\u003cbr\u003e compatibility \u003cbr\u003e6.3.1 Effect of plasticizer structure \u003cbr\u003e6.3.1.1 Aromaticity \u003cbr\u003e6.3.1.2 Branching \u003cbr\u003e6.3.1.3 Chain length \u003cbr\u003e6.3.1.4 Molecular weight \u003cbr\u003e6.3.1.5 Polarity \u003cbr\u003e6.3.2 Conditions of incorporation \u003cbr\u003e6.3.2.1 Amount (concentration) \u003cbr\u003e6.3.2.2 Method of processing \u003cbr\u003e6.3.2.3 Temperature \u003cbr\u003e6.4 Effect of plasticizer type on properties of plasticized material \u003cbr\u003e6.4.1 Crystallinity \u003cbr\u003e6.4.2 Exudation \u003cbr\u003e6.4.3 Permanence \u003cbr\u003e6.4.4 Thermal degradation \u003cbr\u003e6.4.5 Volatility \u003cbr\u003e\u003cbr\u003e\u003cstrong\u003e7 PLASTICIZER MOTION AND DIFFUSION\u003c\/strong\u003e \u003cbr\u003e George Wypych\u003cbr\u003e7.1 Plasticizer diffusion rate and the methods of study \u003cbr\u003e7.2 Plasticizer motion and distribution in the matrix \u003cbr\u003e7.3 Plasticizer migration \u003cbr\u003e7.4 Antiplasticization \u003cbr\u003e7.5 Effect of diffusion and mobility of plasticizers on their suitability \u003cbr\u003e\u003cbr\u003e\u003cstrong\u003e8 EFFECT OF PLASTICIZERS ON OTHER COMPONENTS OF FORMULATION\u003c\/strong\u003e \u003cbr\u003e George Wypych\u003cbr\u003e8.1 Plasticizer consumption by fillers \u003cbr\u003e8.2 Solubility of additives in plasticizers \u003cbr\u003e8.3 Additive molecular mobility and transport in the presence of\u003cbr\u003e plasticizers \u003cbr\u003e8.4 Effect of plasticizers on polymerization and curing reactions \u003cbr\u003e\u003cbr\u003e\u003cstrong\u003e9 PLASTICIZATION STEPS\u003c\/strong\u003e \u003cbr\u003e A. Marcilla, J.C. García and M. Beltrán\u003cbr\u003e9.1 Plasticization steps \u003cbr\u003e9.2 Studies of plastisol's behavior during gelation and fusion \u003cbr\u003e9.2.1 Rheological characterization \u003cbr\u003e9.2.2 Studies by Scanning Electron Microscopy \u003cbr\u003e9.2.3 Study of polymer-plasticizer interactions by DSC \u003cbr\u003e9.2.4 Study of polymer-plasticizer interactions by SALS \u003cbr\u003e9.2.5 Study of polymer-plasticizer interactions by FTIR \u003cbr\u003e9.2.6 Study of polymer-plasticizer interactions by TG \u003cbr\u003e\u003cbr\u003e\u003cstrong\u003e10 EFFECT OF PLASTICIZERS ON PROPERTIES OF PLASTICIZED MATERIALS\u003c\/strong\u003e\u003cbr\u003e George Wypych\u003cbr\u003e10.1 Mechanical properties \u003cbr\u003e10.1.1 Tensile strength \u003cbr\u003e10.1.2 Elongation \u003cbr\u003e10.1.3 Hardness \u003cbr\u003e10.1.4 Toughness, stiffness, ductility, modulus \u003cbr\u003e10.1.5 Other mechanical properties \u003cbr\u003e10.2 Optical properties \u003cbr\u003e10.3 Spectral properties \u003cbr\u003e10.4 Gloss \u003cbr\u003e10.5 Sound \u003cbr\u003e10.6 Rheological properties \u003cbr\u003e10.7 Magnetorheological properties \u003cbr\u003e10.8 Electrical properties \u003cbr\u003e10.9 Glass transition temperature \u003cbr\u003e10.10 Flammability and smoke formation in the presence of plasticizers \u003cbr\u003e10.11 Thermal degradation \u003cbr\u003e10.11.1 Thermal degradation of plasticizers \u003cbr\u003e10.11.2 Effect of polymer degradation products on plasticizers \u003cbr\u003e10.11.3 Effect of plasticizer degradation products on polymer degradation \u003cbr\u003e10.11.4 Loss of plasticizer from the material due to chemical decomposition\u003cbr\u003e reactions and evaporation \u003cbr\u003e10.11.5 Effect of plasticizers on the thermal degradation of materials \u003cbr\u003e10.12 Effect of UV and ionizing radiation on plasticized materials \u003cbr\u003e10.13 Hydrolysis \u003cbr\u003e10.14 Biodegradation in the presence of plasticizers \u003cbr\u003e10.15 Crystallization, structure, and orientation of macromolecules \u003cbr\u003e10.16 Morphology \u003cbr\u003e10.17 Plasticizer effect on contact with other materials \u003cbr\u003e10.18 Influence of plasticizers on swelling \u003cbr\u003e10.19 Fogging \u003cbr\u003e10.20 Hydrophobic\/hydrophilic properties \u003cbr\u003e10.21 Osmotic pressure of plasticizer in polymer \u003cbr\u003e10.22 Self-healing \u003cbr\u003e10.23 Shrinkage \u003cbr\u003e10.24 Soiling \u003cbr\u003e10.25 Free volume \u003cbr\u003e10.26 Dissolution \u003cbr\u003e10.27 Foaming \u003cbr\u003e10.28 Permeability \u003cbr\u003e10.29 Sorption \u003cbr\u003e\u003cbr\u003e\u003cstrong\u003e11 PLASTICIZERS USE AND SELECTION FOR SPECIFIC POLYMERS\u003c\/strong\u003e \u003cbr\u003e George Wypych\u003cbr\u003e11.1 ABS \u003cbr\u003e11.1.1 Frequently used plasticizers \u003cbr\u003e11.1.2 Practical concentrations \u003cbr\u003e11.1.3 Main functions performed by plasticizers \u003cbr\u003e11.1.4 Mechanism of plasticizer action \u003cbr\u003e11.1.5 Effect of plasticizers on polymer and other additives \u003cbr\u003e11.1.6 Typical formulations \u003cbr\u003e11.2 Acrylics \u003cbr\u003e11.2.1 Frequently used plasticizers \u003cbr\u003e11.2.2 Practical concentrations \u003cbr\u003e11.2.3 Main functions performed by plasticizers \u003cbr\u003e11.2.4 Mechanism of plasticizer action \u003cbr\u003e11.2.5 Typical formulations \u003cbr\u003e11.3 Bromobutyl rubber \u003cbr\u003e11.3.1 Frequently used plasticizers \u003cbr\u003e11.3.2 Practical concentrations \u003cbr\u003e11.3.3 Main functions performed by plasticizers \u003cbr\u003e11.3.4 Effect of plasticizers on polymer and other additives \u003cbr\u003e11.4 Butyl terpolymer \u003cbr\u003e11.4.1 Frequently used plasticizers \u003cbr\u003e11.4.2 Practical concentrations \u003cbr\u003e11.5 Cellulose acetate \u003cbr\u003e11.5.1 Frequently used plasticizers \u003cbr\u003e11.5.2 Practical concentrations \u003cbr\u003e11.5.3 Main functions performed by plasticizers \u003cbr\u003e11.5.4 Mechanism of plasticizer action \u003cbr\u003e11.5.5 Effect of plasticizers on polymer and other additives \u003cbr\u003e11.6 Cellulose butyrate and propionate \u003cbr\u003e11.6.1 Frequently used plasticizers \u003cbr\u003e11.6.2 Practical concentrations \u003cbr\u003e11.6.3 Main functions performed by plasticizers \u003cbr\u003e11.6.4 Effect of plasticizers on polymer and other additives \u003cbr\u003e11.7 Cellulose nitrate \u003cbr\u003e11.7.1 Frequently used plasticizers \u003cbr\u003e11.7.2 Practical concentrations \u003cbr\u003e11.7.3 Main functions performed by plasticizers \u003cbr\u003e11.7.4 Effect of plasticizers on polymer and other additives \u003cbr\u003e11.7.5 Typical formulations \u003cbr\u003e11.8 Chitosan \u003cbr\u003e11.8.1 Frequently used plasticizers \u003cbr\u003e11.8.2 Practical concentrations \u003cbr\u003e11.8.3 Main functions performed by plasticizers \u003cbr\u003e11.8.4 Effect of plasticizers on polymer and other additives \u003cbr\u003e11.9 Chlorinated polyvinylchloride \u003cbr\u003e11.9.1 Frequently used plasticizers \u003cbr\u003e11.9.2 Effect of plasticizers on polymer and other additives \u003cbr\u003e11.10 Chlorosulfonated polyethylene \u003cbr\u003e11.10.1 Frequently used plasticizers \u003cbr\u003e11.10.2 Effect of plasticizers on polymer and other additives \u003cbr\u003e11.11 Copolymers \u003cbr\u003e11.11.1 Frequently used plasticizers \u003cbr\u003e11.11.2 Practical concentrations \u003cbr\u003e11.11.3 Main functions performed by plasticizers \u003cbr\u003e11.11.4 Mechanism of plasticizer action \u003cbr\u003e11.12 Cyanoacrylates \u003cbr\u003e11.12.1 Frequently used plasticizers \u003cbr\u003e11.12.2 Practical concentrations \u003cbr\u003e11.12.3 Main functions performed by plasticizers \u003cbr\u003e11.12.4 Effect of plasticizer on polymer and other additives \u003cbr\u003e11.13 Ethylcellulose \u003cbr\u003e11.13.1 Frequently used plasticizers \u003cbr\u003e11.13.2 Practical concentrations \u003cbr\u003e11.13.3 Effect of plasticizers on polymer and other additives \u003cbr\u003e11.14 Epoxy resin \u003cbr\u003e11.14.1 Frequently used plasticizers \u003cbr\u003e11.14.2 Practical concentrations \u003cbr\u003e11.14.3 Main functions performed by plasticizers \u003cbr\u003e11.14.4 Effect of plasticizers on polymer and other additives \u003cbr\u003e11.15 Ethylene-propylene-diene copolymer \u003cbr\u003e11.15.1 Frequently used plasticizers \u003cbr\u003e11.15.2 Practical concentrations \u003cbr\u003e11.15.3 Main functions performed by plasticizers \u003cbr\u003e11.15.4 Effect of plasticizers on polymer and other additives \u003cbr\u003e11.15.5 Typical formulations \u003cbr\u003e11.16 Ethylene-vinyl acetate copolymer \u003cbr\u003e11.17 Ionomers \u003cbr\u003e11.17.1 Frequently used plasticizers \u003cbr\u003e11.17.2 Practical concentrations \u003cbr\u003e11.17.3 Main functions performed by plasticizers \u003cbr\u003e11.17.4 Mechanism of plasticizer action \u003cbr\u003e11.17.5 Effect of plasticizers on polymer and other additives \u003cbr\u003e11.18 Nitrile rubber \u003cbr\u003e11.18.1 Frequently used plasticizers \u003cbr\u003e11.18.2 Practical concentrations \u003cbr\u003e11.18.3 Main functions performed by plasticizers \u003cbr\u003e11.18.4 Effect of plasticizers on polymer and other additives \u003cbr\u003e11.18.5 Typical formulations \u003cbr\u003e11.19 Perfluoropolymers \u003cbr\u003e11.20 Polyacrylonitrile \u003cbr\u003e11.20.1 Frequently used plasticizers \u003cbr\u003e11.20.2 Practical concentrations \u003cbr\u003e11.20.3 Main functions performed by plasticizers \u003cbr\u003e11.20.4 Effect of plasticizers on polymer and other additives \u003cbr\u003e11.21 Polyamide \u003cbr\u003e11.21.1 Frequently used plasticizers \u003cbr\u003e11.21.2 Practical concentrations \u003cbr\u003e11.21.3 Main functions performed by plasticizers \u003cbr\u003e11.21.4 Effect of plasticizers on polymer and other additives \u003cbr\u003e11.22 Polyamine \u003cbr\u003e11.23 Polyaniline \u003cbr\u003e11.24 Polybutadiene \u003cbr\u003e11.24.1 Frequently used plasticizers \u003cbr\u003e11.24.2 Practical concentrations \u003cbr\u003e11.24.3 Main functions performed by plasticizers \u003cbr\u003e11.25 Polybutylene \u003cbr\u003e11.25.1 Frequently used plasticizers \u003cbr\u003e11.25.2 Practical concentrations \u003cbr\u003e11.25.3 Main functions performed by plasticizers \u003cbr\u003e11.26 Poly(butyl methacrylate) \u003cbr\u003e11.26.1 Frequently used plasticizers \u003cbr\u003e11.26.2 Practical concentrations \u003cbr\u003e11.26.3 Main functions performed by plasticizers \u003cbr\u003e11.27 Polycarbonate \u003cbr\u003e11.27.1 Frequently used plasticizers \u003cbr\u003e11.27.2 Practical concentrations \u003cbr\u003e11.27.3 Main functions performed by plasticizers \u003cbr\u003e11.27.4 Effect of plasticizers on polymer and other additives \u003cbr\u003e11.28 Polyester \u003cbr\u003e11.28.1 Frequently used plasticizers \u003cbr\u003e11.28.2 Practical concentrations \u003cbr\u003e11.28.3 Main functions performed by plasticizers \u003cbr\u003e11.28.4 Effect of plasticizers on polymer and other additives \u003cbr\u003e11.28.5 Typical formulations \u003cbr\u003e11.29 Polyetherimide \u003cbr\u003e11.30 Polyethylacrylate \u003cbr\u003e11.31 Polyethylene \u003cbr\u003e11.31.1 Frequently used plasticizers \u003cbr\u003e11.31.2 Practical concentrations \u003cbr\u003e11.31.3 Main functions performed by plasticizers \u003cbr\u003e11.31.4 Mechanism of plasticizer action \u003cbr\u003e11.31.5 Typical formulations \u003cbr\u003e11.32 Poly(ethylene oxide) \u003cbr\u003e11.32.1 Frequently used plasticizers \u003cbr\u003e11.32.2 Practical concentrations \u003cbr\u003e11.32.3 Main functions performed by plasticizers \u003cbr\u003e11.32.4 Effect of plasticizers on polymer and other additives \u003cbr\u003e11.33 Poly(3-hydroxybutyrate) \u003cbr\u003e11.33.1 Frequently used plasticizers \u003cbr\u003e11.33.2 Practical concentrations \u003cbr\u003e11.33.3 Main functions performed by plasticizers \u003cbr\u003e11.34 Polyisobutylene \u003cbr\u003e11.35 Polyisoprene \u003cbr\u003e11.35.1 Frequently used plasticizers \u003cbr\u003e11.35.2 Practical concentrations \u003cbr\u003e11.35.3 Main functions performed by plasticizers \u003cbr\u003e11.35.4 Typical formulations \u003cbr\u003e11.36 Polyimide \u003cbr\u003e11.36.1 Frequently used plasticizers \u003cbr\u003e11.36.2 Practical concentrations \u003cbr\u003e11.36.3 Main functions performed by plasticizers \u003cbr\u003e11.36.4 Effect of plasticizers on polymer and other additives \u003cbr\u003e11.37 Polylactide \u003cbr\u003e11.37.1 Frequently used plasticizers \u003cbr\u003e11.37.2 Practical concentrations \u003cbr\u003e11.37.3 Main functions performed by plasticizers \u003cbr\u003e11.37.4 Effect of plasticizers on polymer and other additives \u003cbr\u003e11.38 Polymethylmethacrylate \u003cbr\u003e11.38.1 Frequently used plasticizers \u003cbr\u003e11.38.2 Practical concentrations \u003cbr\u003e11.38.3 Main functions performed by plasticizers \u003cbr\u003e11.38.4 Mechanism of plasticizer action \u003cbr\u003e11.38.5 Typical formulations \u003cbr\u003e11.39 Polypropylene \u003cbr\u003e11.39.1 Frequently used plasticizers \u003cbr\u003e11.39.2 Practical concentrations \u003cbr\u003e11.39.3 Main functions performed by plasticizers \u003cbr\u003e11.39.4 Effect of plasticizers on polymer and other additives \u003cbr\u003e11.40 Poly(propylene carbonate) \u003cbr\u003e11.40.1 Frequently used plasticizers \u003cbr\u003e11.40.2 Practical concentrations \u003cbr\u003e11.40.3 Main functions performed by plasticizers \u003cbr\u003e11.40.4 Effect of plasticizers on polymer and other additives \u003cbr\u003e11.41 Poly(N-vinylcarbazole) \u003cbr\u003e11.42 Poly(N-vinylpyrrolidone) \u003cbr\u003e11.42.1 Frequently used plasticizers \u003cbr\u003e11.42.2 Practical concentrations \u003cbr\u003e11.42.3 Main functions performed by plasticizers \u003cbr\u003e11.42.4 Mechanism of plasticizer action \u003cbr\u003e11.42.5 Typical formulations \u003cbr\u003e11.43 Poly(phenylene ether) \u003cbr\u003e11.43.1 Frequently used plasticizers \u003cbr\u003e11.43.2 Practical concentrations \u003cbr\u003e11.43.3 Main functions performed by plasticizers \u003cbr\u003e11.44 Poly(phenylene sulfide) \u003cbr\u003e11.45 Polystyrene \u003cbr\u003e11.45.1 Frequently used plasticizers \u003cbr\u003e11.45.2 Practical concentrations \u003cbr\u003e11.45.3 Main functions performed by plasticizers \u003cbr\u003e11.46 Polysulfide \u003cbr\u003e11.46.1 Frequently used plasticizers \u003cbr\u003e11.46.2 Practical concentrations \u003cbr\u003e11.46.3 Main functions performed by plasticizers \u003cbr\u003e11.47 Polysulfone \u003cbr\u003e11.48 Polyurethanes \u003cbr\u003e11.48.1 Frequently used plasticizers \u003cbr\u003e11.48.2 Practical concentrations \u003cbr\u003e11.48.3 Main functions performed by plasticizers \u003cbr\u003e11.48.4 Mechanism of plasticizers action \u003cbr\u003e11.48.5 Effect of plasticizers on polymers and other additives \u003cbr\u003e11.48.6 Typical formulations \u003cbr\u003e11.49 Polyvinylacetate \u003cbr\u003e11.49.1 Frequently used plasticizers \u003cbr\u003e11.49.2 Practical concentrations \u003cbr\u003e11.49.3 Main functions performed by plasticizers \u003cbr\u003e11.49.4 Effect of plasticizers on polymer and other additives \u003cbr\u003e11.50 Polyvinylalcohol \u003cbr\u003e11.50.1 Frequently used plasticizers \u003cbr\u003e11.50.2 Practical concentrations \u003cbr\u003e11.50.3 Main functions performed by plasticizers \u003cbr\u003e11.50.4 Mechanism of plasticizer action \u003cbr\u003e11.50.5 Effect of plasticizers on polymer and other additives \u003cbr\u003e11.50.6 Typical formulations \u003cbr\u003e11.51 Polyvinylbutyral \u003cbr\u003e11.51.1 Frequently used plasticizers \u003cbr\u003e11.51.2 Practical concentrations \u003cbr\u003e11.51.3 Main functions performed by plasticizers \u003cbr\u003e11.51.4 Effect of plasticizers on polymer and other additives \u003cbr\u003e11.52 Polyvinylchloride \u003cbr\u003e11.52.1 Frequently used plasticizers \u003cbr\u003e11.52.2 Practical concentrations \u003cbr\u003e11.52.3 Main functions performed by plasticizers \u003cbr\u003e11.52.4 Mechanism of plasticizer action \u003cbr\u003e11.52.5 Effect of plasticizers on polymer and other additives \u003cbr\u003e11.52.6 Typical formulations \u003cbr\u003e11.53 Polyvinylfluoride \u003cbr\u003e11.54 Polyvinylidenefluoride \u003cbr\u003e11.54.1 Frequently used plasticizers \u003cbr\u003e11.54.2 Practical concentrations \u003cbr\u003e11.54.3 Main functions performed by plasticizers \u003cbr\u003e11.54.4 Effect of plasticizers on polymer and other additives \u003cbr\u003e11.55 Polyvinylidenechloride \u003cbr\u003e11.56 Proteins \u003cbr\u003e11.56.1 Frequently used plasticizers \u003cbr\u003e11.56.2 Practical concentrations \u003cbr\u003e11.56.3 Main functions performed by plasticizers \u003cbr\u003e11.56.4 Mechanism of plasticizer action \u003cbr\u003e11.56.5 Effect of plasticizers on polymer and other additives \u003cbr\u003e11.57 Rubber, natural \u003cbr\u003e11.57.1 Frequently used plasticizers \u003cbr\u003e11.57.2 Practical concentrations \u003cbr\u003e11.57.3 Main functions performed by plasticizers \u003cbr\u003e11.57.4 Effect of plasticizers on polymer and other additives \u003cbr\u003e11.57.5 Typical formulations \u003cbr\u003e11.58 Silicone \u003cbr\u003e11.58.1 Frequently used plasticizers \u003cbr\u003e11.58.2 Practical concentrations \u003cbr\u003e11.58.3 Main functions performed by plasticizers \u003cbr\u003e11.58.4 Effect of plasticizers on polymer and other additives \u003cbr\u003e11.58.5 Typical formulations \u003cbr\u003e11.59 Styrene-butadiene rubber \u003cbr\u003e11.59.1 Frequently used plasticizers \u003cbr\u003e11.59.2 Practical concentrations \u003cbr\u003e11.59.3 Effect of plasticizers on polymer and other additives \u003cbr\u003e11.59.4 Typical formulations \u003cbr\u003e11.60 Styrene-butadiene-styrene rubber \u003cbr\u003e11.60.1 Frequently used plasticizers \u003cbr\u003e11.60.2 Practical concentrations \u003cbr\u003e11.60.3 Main functions performed by plasticizers \u003cbr\u003e11.60.4 Effect of plasticizer on polymer and other additives \u003cbr\u003e11.61 Starch \u003cbr\u003e11.61.1 Frequently used plasticizers \u003cbr\u003e11.61.2 Practical concentrations \u003cbr\u003e11.61.3 Main functions performed by plasticizers \u003cbr\u003e11.61.4 Effect of plasticizers on polymer and other additives \u003cbr\u003e11.61.5 Typical formulations\u003cbr\u003e \u003cbr\u003e\u003cstrong\u003e12 PLASTICIZERS IN POLYMER BLENDS\u003c\/strong\u003e \u003cbr\u003e George Wypych\u003cbr\u003e12.1 Plasticizer partition between component polymers \u003cbr\u003e12.2 Interaction of plasticizers with blend components \u003cbr\u003e12.3 Effect of plasticizers on blend properties \u003cbr\u003e12.4 Blending to reduce or to replace plasticizers \u003cbr\u003e\u003cbr\u003e\u003cbr\u003e\u003cstrong\u003e13 PLASTICIZERS IN VARIOUS INDUSTRIAL PRODUCTS\u003c\/strong\u003e \u003cbr\u003e George Wypych\u003cbr\u003e13.1 Adhesives and sealants \u003cbr\u003e13.1.1 Plasticizer types \u003cbr\u003e13.1.2 Plasticizer concentration \u003cbr\u003e13.1.3 Reasons for plasticizer use \u003cbr\u003e13.1.4 Advantages and disadvantages of plasticizers use \u003cbr\u003e13.1.5 Effect of plasticizers on product properties \u003cbr\u003e13.1.6 Examples of formulations \u003cbr\u003e13.2 Aerospace \u003cbr\u003e13.3 Agriculture \u003cbr\u003e13.4 Automotive \u003cbr\u003e13.4.1 Plasticizer types \u003cbr\u003e13.4.2 Plasticizer concentration \u003cbr\u003e13.4.3 Reasons for plasticizer use \u003cbr\u003e13.4.4 Advantages and disadvantages of plasticizers use \u003cbr\u003e13.4.5 Effect of plasticizers on product properties \u003cbr\u003e13.5 Cementitious materials \u003cbr\u003e13.5.1 Plasticizer types \u003cbr\u003e13.5.2 Plasticizer concentration \u003cbr\u003e13.5.3 Reasons for plasticizer use \u003cbr\u003e13.5.4 Advantages and disadvantages of plasticizers use \u003cbr\u003e13.5.5 Effect of plasticizers on product properties \u003cbr\u003e13.5.6 Examples of formulations \u003cbr\u003e13.6 Coated fabrics \u003cbr\u003e13.6.1 Plasticizer types \u003cbr\u003e13.6.2 Plasticizer concentration \u003cbr\u003e13.6.3 Reasons for plasticizer use \u003cbr\u003e13.6.4 Advantages and disadvantages of plasticizers use \u003cbr\u003e13.6.5 Effect of plasticizers on product properties \u003cbr\u003e13.6.6 Examples of formulations \u003cbr\u003e13.7 Composites \u003cbr\u003e13.7.1 Plasticizer types \u003cbr\u003e13.7.2 Plasticizer concentrations \u003cbr\u003e13.7.3 Reasons for addition \u003cbr\u003e13.7.4 Effect of plasticizers on product properties \u003cbr\u003e13.8 Cosmetics \u003cbr\u003e13.8.1 Plasticizer types \u003cbr\u003e13.8.2 Plasticizer concentration \u003cbr\u003e13.8.3 Reasons for plasticizer use \u003cbr\u003e13.8.4 Advantages and disadvantages of plasticizers use \u003cbr\u003e13.8.5 Effect of plasticizers on product properties \u003cbr\u003e13.8.6 Examples of formulations \u003cbr\u003e13.9 Cultural heritage \u003cbr\u003e13.10 Dental materials \u003cbr\u003e13.10.1 Plasticizer types \u003cbr\u003e13.10.2 Plasticizer concentration \u003cbr\u003e13.10.3 Reasons for plasticizer use \u003cbr\u003e13.10.4 Advantages and disadvantages of plasticizers use \u003cbr\u003e13.11 Electrical and electronics \u003cbr\u003e13.11.1 Plasticizer types \u003cbr\u003e13.11.2 Plasticizer concentration \u003cbr\u003e13.11.3 Reasons for plasticizer use \u003cbr\u003e13.11.4 Advantages and disadvantages of plasticizers use \u003cbr\u003e13.11.5 Effect of plasticizers on product properties \u003cbr\u003e13.12 Fibers \u003cbr\u003e13.12.1 Plasticizer types \u003cbr\u003e13.12.2 Plasticizer concentration \u003cbr\u003e13.12.3 Reasons for plasticizer use \u003cbr\u003e13.12.4 Effect of plasticizers on product properties \u003cbr\u003e13.13 Film \u003cbr\u003e13.13.1 Plasticizer types \u003cbr\u003e13.13.2 Plasticizer concentration \u003cbr\u003e13.13.3 Reasons for plasticizer use \u003cbr\u003e13.13.4 Advantages and disadvantages of plasticizers use \u003cbr\u003e13.13.5 Effect of plasticizers on product properties \u003cbr\u003e13.14 Food \u003cbr\u003e13.14.1 Plasticizer types \u003cbr\u003e13.14.2 Plasticizer concentration \u003cbr\u003e13.14.3 Reasons for plasticizer use \u003cbr\u003e13.14.4 Advantages and disadvantages of plasticizers use \u003cbr\u003e13.14.5 Effect of plasticizers on product properties \u003cbr\u003e13.15 Flooring \u003cbr\u003e13.15.1 Plasticizer types \u003cbr\u003e13.15.2 Plasticizer concentration \u003cbr\u003e13.15.3 Reasons for plasticizer use \u003cbr\u003e13.15.4 Advantages and disadvantages of plasticizers use \u003cbr\u003e13.15.5 Effect of plasticizers on product properties \u003cbr\u003e13.15.6 Examples of formulations \u003cbr\u003e13.16 Foams \u003cbr\u003e13.16.1 Plasticizer types \u003cbr\u003e13.16.2 Plasticizer concentration \u003cbr\u003e13.16.3 Reasons for plasticizer use \u003cbr\u003e13.16.4 Advantages and disadvantages of plasticizers use \u003cbr\u003e13.16.5 Effect of plasticizers on product properties \u003cbr\u003e13.16.6 Examples of formulations \u003cbr\u003e13.17 Footwear \u003cbr\u003e13.17.1 Plasticizer types \u003cbr\u003e13.17.2 Plasticizer concentration \u003cbr\u003e13.17.3 Reasons for plasticizer use \u003cbr\u003e13.17.4 Advantages and disadvantages of plasticizers use \u003cbr\u003e13.17.5 Example of formulation \u003cbr\u003e13.18 Fuel cells \u003cbr\u003e13.18.1 Plasticizer types \u003cbr\u003e13.18.2 Plasticizer concentration \u003cbr\u003e13.18.3 Reasons for plasticizer use \u003cbr\u003e13.19 Gaskets \u003cbr\u003e13.19.1 Plasticizer types \u003cbr\u003e13.19.2 Plasticizer concentration \u003cbr\u003e13.19.3 Reasons for plasticizer use \u003cbr\u003e13.19.4 Advantages and disadvantages of plasticizers use \u003cbr\u003e13.19.5 Examples of formulations \u003cbr\u003e13.20 Household products \u003cbr\u003e13.21 Inks, varnishes, and lacquers \u003cbr\u003e13.21.1 Plasticizer types \u003cbr\u003e13.21.2 Plasticizer concentration \u003cbr\u003e13.21.3 Reasons for plasticizer use \u003cbr\u003e13.21.4 Advantages and disadvantages of plasticizers use \u003cbr\u003e13.21.5 Effect of plasticizers on product properties \u003cbr\u003e13.21.6 Examples of formulations \u003cbr\u003e13.22 Medical applications \u003cbr\u003e13.22.1 Plasticizer types \u003cbr\u003e13.22.2 Plasticizer concentration \u003cbr\u003e13.22.3 Reasons for plasticizer use \u003cbr\u003e13.22.4 Advantages and disadvantages of plasticizers use \u003cbr\u003e13.22.5 Effect of plasticizers on product properties \u003cbr\u003e13.22.6 Examples of formulations \u003cbr\u003e13.23 Membranes \u003cbr\u003e13.23.1 Plasticizer types \u003cbr\u003e13.23.2 Plasticizer concentration \u003cbr\u003e13.23.3 Reasons for plasticizer use \u003cbr\u003e13.23.4 Advantages and disadvantages of plasticizers use \u003cbr\u003e13.24 Microspheres \u003cbr\u003e13.24.1 Plasticizer types \u003cbr\u003e13.24.2 Plasticizer concentration \u003cbr\u003e13.24.3 Reasons for plasticizer use \u003cbr\u003e13.25 Paints and coatings \u003cbr\u003e13.25.1 Plasticizer types \u003cbr\u003e13.25.2 Plasticizer concentration \u003cbr\u003e13.25.3 Reasons for plasticizer use \u003cbr\u003e13.25.4 Advantages and disadvantages of plasticizers use \u003cbr\u003e13.25.5 Effect of plasticizers on product properties \u003cbr\u003e13.25.6 Examples of formulations \u003cbr\u003e13.26 Pharmaceutical products \u003cbr\u003e13.26.1 Plasticizer types \u003cbr\u003e13.26.2 Plasticizer concentration \u003cbr\u003e13.26.3 Reasons for plasticizer use \u003cbr\u003e13.26.4 Advantages and disadvantages of plasticizers use \u003cbr\u003e13.26.5 Effect of plasticizers on product properties \u003cbr\u003e13.26.6 Examples of formulations \u003cbr\u003e13.27 Photographic materials \u003cbr\u003e13.27.1 Plasticizer types \u003cbr\u003e13.27.2 Plasticizer concentration \u003cbr\u003e13.27.3 Reasons for plasticizer use \u003cbr\u003e13.27.4 Effect of plasticizers on product properties \u003cbr\u003e13.28 Pipes \u003cbr\u003e13.28.1 Plasticizer types \u003cbr\u003e13.28.2 Plasticizer concentration \u003cbr\u003e13.28.3 Reasons for plasticizer use \u003cbr\u003e13.28.4 Advantages and disadvantages of plasticizers use \u003cbr\u003e13.28.5 Effect of plasticizers on product properties \u003cbr\u003e13.28.6 Examples of formulations \u003cbr\u003e13.29 Roofing materials \u003cbr\u003e13.29.1 Plasticizer types \u003cbr\u003e13.29.2 Plasticizer concentration \u003cbr\u003e13.29.3 Reasons for plasticizer use \u003cbr\u003e13.29.4 Advantages and disadvantages of plasticizers use \u003cbr\u003e13.29.5 Effect of plasticizers on product properties \u003cbr\u003e13.29.6 Examples of formulations \u003cbr\u003e13.30 Tires \u003cbr\u003e13.30.1 Plasticizer types \u003cbr\u003e13.30.2 Plasticizer concentration \u003cbr\u003e13.30.3 Reasons for plasticizer use \u003cbr\u003e13.30.4 Advantages and disadvantages of plasticizers use \u003cbr\u003e13.30.5 Effect of plasticizers on product properties \u003cbr\u003e13.30.6 Examples of formulations \u003cbr\u003e13.31 Toys \u003cbr\u003e13.31.1 Plasticizer types \u003cbr\u003e13.31.2 Plasticizer concentration \u003cbr\u003e13.31.3 Reasons for plasticizer use \u003cbr\u003e13.31.4 Effect of plasticizers on product properties \u003cbr\u003e13.32 Tubing \u003cbr\u003e13.32.1 Plasticizer types \u003cbr\u003e13.32.2 Plasticizer concentration \u003cbr\u003e13.32.3 Reasons for plasticizer use \u003cbr\u003e13.32.4 Advantages and disadvantages of plasticizers use \u003cbr\u003e13.32.5 Effect of plasticizers on product properties \u003cbr\u003e13.32.6 Examples of formulations \u003cbr\u003e13.33 Wire and cable \u003cbr\u003e13.33.1 Plasticizer types \u003cbr\u003e13.33.2 Plasticizer concentration \u003cbr\u003e13.33.3 Reasons for plasticizer use \u003cbr\u003e13.33.4 Advantages and disadvantages of plasticizers use \u003cbr\u003e13.33.5 Effect of plasticizers on product properties \u003cbr\u003e13.33.6 Examples of formulations \u003cbr\u003e\u003cbr\u003e\u003cstrong\u003e14 PLASTICIZERS IN VARIOUS PROCESSING METHODS\u003c\/strong\u003e \u003cbr\u003e George Wypych\u003cbr\u003e14.1 Blow molding \u003cbr\u003e14.2 Calendering \u003cbr\u003e14.3 Coil coating \u003cbr\u003e14.4 Compression molding \u003cbr\u003e14.5 Compounding (mixing) \u003cbr\u003e14.6 Dip coating \u003cbr\u003e14.7 Dry blending \u003cbr\u003e14.8 Extrusion \u003cbr\u003e14.9 Injection molding \u003cbr\u003e14.10 Polymer synthesis \u003cbr\u003e14.11 Rotational molding \u003cbr\u003e14.12 Rubber processing \u003cbr\u003e14.13 Thermoforming \u003cbr\u003e14.14 Web coating \u003cbr\u003e14.15 Wire coating \u003cbr\u003e\u003cbr\u003e\u003cstrong\u003e15 SPECIALIZED ANALYTICAL METHODS IN PLASTICIZER TESTING\u003c\/strong\u003e \u003cbr\u003e George Wypych\u003cbr\u003e15.1 Plasticizer identification \u003cbr\u003e15.2 Methods of determination of plasticizer concentration \u003cbr\u003e15.3 Determination of volatility, molecular motion, diffusion, and migration \u003cbr\u003e15.4 Methods of study of plasticized materials \u003cbr\u003e\u003cbr\u003e\u003cstrong\u003e16 MATHEMATICAL MODELING IN APPLICATION TO PLASTICIZERS\u003c\/strong\u003e \u003cbr\u003e George Wypych\u003cbr\u003e16.1 PVC-plasticizer interaction model \u003cbr\u003e16.2 Gas permeation \u003cbr\u003e16.3 Migration \u003cbr\u003e16.4 Dry-blending time \u003cbr\u003e16.5 Gelation and fusion \u003cbr\u003e16.6 Thermal decomposition \u003cbr\u003e16.7 Potential health risk of exposure to DEHP from glove \u003cbr\u003e\u003cbr\u003e\u003cstrong\u003e17 HEALTH AND SAFETY ISSUES WITH PLASTICIZERS AND PLASTICIZED\u003c\/strong\u003e\u003cbr\u003e\u003cstrong\u003e MATERIALS\u003c\/strong\u003e \u003cbr\u003e17.1 Adjuvant effect of plasticizers \u003cbr\u003e Søren Thor Larsen \u003cbr\u003e17.1.1 Introduction \u003cbr\u003e17.1.2 Airway allergy \u003cbr\u003e17.1.3 Adjuvant effect \u003cbr\u003e17.1.4 Adjuvant effect of phthalate plasticizers \u003cbr\u003e 17.1.4.1 Epidemiological studies \u003cbr\u003e17.1.4.2 In vivo (animal) studies \u003cbr\u003e17.1.5 Conclusions \u003cbr\u003e17.2 The rodent hepatocarcinogenic response to phthalate plasticizers\u003cbr\u003e : basic biology and human extrapolation \u003cbr\u003e Abigail L Walker and Ruth A Roberts\u003cbr\u003e17.2.1 Introduction \u003cbr\u003e17.2.2 Gene expression and cancer toxicology \u003cbr\u003e17.2.2.1 Gene expression \u003cbr\u003e17.2.2.2 Cancer biology: some basic considerations \u003cbr\u003e17.2.2.3 Developing areas of interest in hepatocarcinogenesis \u003cbr\u003e17.2.2.4 Chemical carcinogenesis \u003cbr\u003e17.2.3 Peroxisome proliferators and rodent nongenotoxic\u003cbr\u003e hepatocarcinogenesis \u003cbr\u003e17.2.3.1 The peroxisome proliferators \u003cbr\u003e17.2.3.2 PPAR \u003cbr\u003e17.2.4 Species differences in response to peroxisome proliferators \u003cbr\u003e17.2.5 Chemical regulation \u003cbr\u003e17.2.5.1 Challenges in alternative models \u003cbr\u003e17.2.6 Summary \u003cbr\u003e17.3 The influence of maternal nutrition on phthalate teratogenicity \u003cbr\u003e Janet Y. Uriu-Adams1 and Carl L. Keen\u003cbr\u003e17.3.1 Introduction \u003cbr\u003e17.3.2 Reproductive toxicity of BBP and DEHP \u003cbr\u003e17.3.3 Acute phase response-induced alterations in maternal \u003cbr\u003e17.3.4 Concluding comments \u003cbr\u003e17.3.5 Recent findings \u003cbr\u003e17.3.6 Acknowledgments \u003cbr\u003e17.4 Public health implications of phthalates: A review of U.S. actions\u003cbr\u003e to protect those most vulnerable \u003cbr\u003e Stephanie R. Miles-Richardson and Dhara Richardson\u003cbr\u003e17.4.1 Introduction \u003cbr\u003e17.4.2 Implications of the COVID-19 pandemic on phthalate exposure \u003cbr\u003e17.4.3 The U.S. response to phthalate exposure \u003cbr\u003e17.4.3 Some U.S. State-level actions \u003cbr\u003e17.4.4 2008 Consumer Product Safety Improvement Act \u003cbr\u003e17.4.5 Food and Drug Administration (FDA) petition, lawsuit, and final ruling \u003cbr\u003e17.4.6 Preventing Harmful Exposure to Phthalates Act 117th Congress\u003cbr\u003e (2021-2022) \u003cbr\u003e17.4.7 Other U.S. Federal Agencies \u003cbr\u003e17.4.8 Conclusion \u003cbr\u003e17.5 Plasticizers in the indoor environment \u003cbr\u003e Werner Butte\u003cbr\u003e17.5.1 Introduction \u003cbr\u003e17.5.2 Sources of indoor plasticizers \u003cbr\u003e17.5.3 Occurrence of plasticizers indoors \u003cbr\u003e17.5.3.1 Indoor air \u003cbr\u003e17.5.3.2 House dust \u003cbr\u003e17.5.4 Impact of plasticizers in the indoor environment \u003cbr\u003e17.5.4.1 Indoor plasticizers and health \u003cbr\u003e17.5.4.2 Human exposure assessment for plasticizers in the indoor\u003cbr\u003e environment \u003cbr\u003e17.5.4.3 Reference and guideline values of plasticizers to assess indoor\u003cbr\u003e quality \u003cbr\u003e17.5.5 Summary \u003cbr\u003e\u003cbr\u003e\u003cstrong\u003e18 THE ENVIRONMENTAL FATE OF PLASTICIZERS\u003c\/strong\u003e \u003cbr\u003e William R. Roy\u003cbr\u003e18.1 Introduction \u003cbr\u003e18.1.1 Releases to the environment \u003cbr\u003e18.1.2 Levels in the environment \u003cbr\u003e18.2 Plasticizers in water \u003cbr\u003e18.2.1 Solubility \u003cbr\u003e18.2.2 Volatilization from water. \u003cbr\u003e18.2.3 Abiotic degradation in water \u003cbr\u003e18.2.4 Biodegradation in water \u003cbr\u003e18.2.5 Adsorption from water \u003cbr\u003e18.3 Soil and sediment \u003cbr\u003e18.3.1 Volatilization \u003cbr\u003e18.3.2 Biodegradation in soil \u003cbr\u003e18.4 Organisms \u003cbr\u003e18.5 Air \u003cbr\u003e Summary and concluding remarks \u003cbr\u003e\u003cbr\u003e\u003cstrong\u003e19 REGULATIONS AND DATA\u003c\/strong\u003e \u003cbr\u003e George Wypych\u003cbr\u003e19.1 Toxic substance control \u003cbr\u003e19.2. Carcinogenic effect \u003cbr\u003e19.3 Teratogenic and mutagenic effect \u003cbr\u003e19.4 Workplace exposure limits \u003cbr\u003e19.5 Exposure from consumer products \u003cbr\u003e19.6 Plasticizers in drinking water \u003cbr\u003e19.7 Food regulatory acts \u003cbr\u003e19.8 Medical and other applications \u003cbr\u003e\u003cbr\u003e\u003cbr\u003e\u003cstrong\u003e20 PERSONAL PROTECTION\u003c\/strong\u003e \u003cbr\u003e George Wypych\u003cbr\u003e20.1 Clothing \u003cbr\u003e20.2 Gloves \u003cbr\u003e20.3 Eye protection \u003cbr\u003e20.4 Respiratory protection \u003cbr\u003e\u003cbr\u003e\u003cstrong\u003e21 PLASTICIZER RECOVERY \u0026amp; RECYCLING\u003c\/strong\u003e \u003cbr\u003e George Wypych\u003cbr\u003e\u003cbr\u003e \u003cstrong\u003eINDEX\u003c\/strong\u003e\u003cbr\u003e\u003c\/p\u003e\n\u003cp\u003e \u003c\/p\u003e\n\u003ch5\u003eAbout Author\u003c\/h5\u003e\nGeorge Wypych has PhD Eng. The professional expertise includes university teaching (full professor) and research \u0026amp; development (university and corporate). He has published 48 books (PVC Plastisols, Wroclaw University Press; Polyvinylchloride Degradation, Elsevier; Polyvinylchloride Stabilization, Elsevier; Polymer Modified Textile Materials, Wiley \u0026amp; Sons; Handbook of Material Weathering, 1st, 2nd, 3rd, 4th, 5th, 6th Edition, ChemTec Publishing; Handbook of Fillers, 1st, 2nd, 3rd, 4th, and 5th Edition, ChemTec Publishing; Recycling of PVC, ChemTec Publishing; Weathering of Plastics. Testing to Mirror Real Life Performance, Plastics Design Library, Handbook of Solvents, Vol. 1. Properties 1st, 2nd, and 3rd Edition, ChemTec Publishing, Handbook of Solvents, Vol. 2. Health \u0026amp; Environment 1st, 2nd, and 3rd Edition, ChemTec Publishing, Handbook of Plasticizers, 1st, 2nd, 3rd, 4th Edition, ChemTec Publishing, Handbook of Antistatics, 1st and 2nd Edition, ChemTec Publishing, Databook of Antistatics, 1st and 2nd Edition, ChemTec Publishing, Handbook of Antiblocking, Release and Slip Additives, 1st , 2nd and 3rd Edition, ChemTec Publishing, Industrial Solvents in Kirk-Othmer Encyclopedia of Chemical Technology (two editions), John Wiley \u0026amp; Sons, PVC Degradation \u0026amp; Stabilization, 1st, 2nd, 3rd, and 4th Editions, ChemTec Publishing, The PVC Formulary, 1st, 2nd, and 3rd Editions, ChemTec Publishing, Handbook of Material Biodegradation, Biodeterioration, and Biostabilization, 1st and 2nd Editions, ChemTec Publishing, Handbook of UV Degradation and Stabilization, 1st, 2nd, and 3rd Editions, ChemTec Publishing, Handbook of Polymers, 1st, 2nd, and 3rd Editions, ChemTec Publishing, Atlas of Material Damage, 1st, 2nd, and 3rd Editions, ChemTec Publishing, Handbook of Odors in Plastic Materials, 1st, 2nd, and 3rd Editions, ChemTec Publishing, Databook of Solvents (two editions), ChemTec Publishing, Databook of Blowing and Auxiliary Agents, ChemTec Publishing, Handbook of Foaming and Blowing Agents (two editions), ChemTec Publishing, Databook of Green Solvents, ChemTec Publishing (two editions), Self-healing Products (two editions), ChemTec Publishing, Handbook of Adhesion Promoters (two editions), ChemTec Publishing, Databook of Surface Modification Additives (two editions), ChemTec Publishing, Handbook of Surface Improvement and Modification (two editions), ChemTec Publishing, Graphene – Important Results and Applications, ChemTec Publishing, Handbook of Curatives and Crosslinkers, ChemTec Publishing, Chain Mobility and Progress in Medicine, Pharmaceutical, Polymer Science and Technology, Impact of Award, ChemTec Publishing, Databook of Antioxidants, ChemTec Publishing, Handbook of Antioxidants, ChemTec Publishing, Databook of UV Stabilizers (two Editions), ChemTec Publishing, Databook of Flame Retardants, ChemTec Publishing, Databook of Nucleating Agents, ChemTec Publishing, Handbook of Flame Retardants, ChemTec Publishing, Handbook of Nucleating Agents, ChemTec Publishing, Handbook of Polymers in Electronics, ChemTec Publishing, Databook of Impact Modifiers, ChemTec Publishing, Databook of Rheological Additives, ChemTec Publishing, Handbook of Impact Modifiers, ChemTec Publishing, Handbook of Rheological Additives, ChemTec Publishing, Databook of Polymer Processing Additives, ChemTec Publishing, Handbook of Polymer Processing Additives, ChemTec Publishing, Functional Fillers (two editions), 2 databases (Solvents Database, 1st, 2nd, 3rd Edition and Database of Antistatics 1st and 2nd Edition, both by ChemTec Publishing), and 42 scientific papers and obtained 16 patents. He specializes in PVC, polymer additives, material durability, and the development of sealants and coatings. He was included in the Dictionary of International Biography, Who's Who in Plastics and Polymers, and Who's Who in Engineering, and was selected International Man of the Year 1996-1997 in recognition of services to education."}